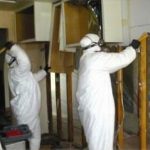 Biohazard materials pose a great threat to the health and safety of everyone who comes in contact with them, so knowing the right steps to take in a situation involving biohazard materials on your property is crucial for ensuring your and your family's well-being and peace of mind. Contrary to popular belief, it is not only the scenes of major accidents or violent crimes that contain biohazard materials – flooded areas, mold-affected materials, backed-up sewage systems, hoarded homes, and other risky settings may also be contaminated with harmful biological substances. Different bacteria, microorganisms, biological toxins, sewage, waste materials, mold spores, blood, tissues and other bodily fluids, etc. may cause severe infection and spread dangerous diseases. It is of paramount importance to stay away from the contaminated area and call certified professionals to safely cleanup the biohazard materials as soon as possible.
ServiceMaster First Response provides biohazard cleaning services in South Lake Tahoe, CA, to safely remove and cleanup various biohazard materials. We can effectively clean up blood and other bodily fluids from the scene of a crime or accident as well as other biohazard materials such as sewage, mold, and chemicals. Our technicians are specially trained and certified to handle biohazard cleanup in any scenario from a crime scene to sewage backup and mold growth.
Biohazard Cleaning Services
You can rely on ServiceMaster First Response to render your property safe in a timely and efficient manner, however severe the situation. Our specialty equipment and effective cleaning products allow the complete disinfection and restoration of any contaminated area. Our technicians have the proper qualification and extensive experience required to deal with precarious situations, as well as personal protective equipment (PPE) to keep them safe during the entire process. Our biohazard cleaning services follow OSHA and state health regulations.
We can provide effective biohazard cleaning services in the following situations:
Flood damage
Sewer backups
Mold and mildew growth
Hoarding cleaning
Serious injuries
Crime scenes, including homicides and suicides
Unattended death scenes
You can rest assured that we will protect your privacy, as well as the integrity of your property throughout the entire cleaning and restoration process.
Trauma and Crime Scene Cleaning Services
The first thing to do if you come upon a trauma scene is call EMT's and law reinforcement. Then, professional cleaning services will be required to render the area safe. ServiceMaster First Response will respond to emergency trauma scene cleaning needs in South Lake Tahoe, CA within a couple of hours after your call. Our technicians will not only clean up biohazard materials from the scene, but will also work with law enforcement officials in order not to compromise the crime scene investigation. Our professionals abide by federal and state regulations for the proper removal and disposal of dangerous materials and observe local safety requirements when cleaning, disinfecting, and deodorizing the surroundings.
Our main focus is safety, as crime or accident scenes often involve bodily fluids, tissues, various blood borne pathogens, fingerprint powder, and evidence-gathering chemicals, as well as tear gas and pepper spray residues from the investigation process, and other dangerous bacteria and toxins (many of which are volatile) that can easily spread and affect your health. We use the most advanced equipment and effective cleaning products available to quickly restore trauma scenes to a safe condition. Besides, we approach the scene with compassion and respect for those who are grieving as we understand well the emotional impact of trauma situations and violent crimes on the family and friends of the victim.
Our trauma and crime scene cleaning services include:
Removal of dangerous biohazard materials and thorough cleaning, disinfection and deodorization of the entire area;
Safe disposal of all biohazard materials at a licensed facility;
Compliance with local, state, and federal safety standards;
Compassion and respect for the privacy and feelings of the people affected by the traumatic event, as well as insurance assistance.
The technicians of ServiceMaster First Response are properly trained and equipped to clean up any type of biohazard materials and ensure the safety of your property. They are mindful of the associated emotional stress and work quickly and discreetly to protect your privacy and help you resume your normal daily life without further troubles. You can call us 24 hours a day at 888-915-8868 for emergency biohazard cleaning services in South Lake Tahoe, CA, and the surrounding areas.