RestorationMaster
[call](888) 915-8868[/call]
As our emergency damage restoration services are always available when you need them most, there are certain measure that can be taken in order to prevent certain disasters from occurring. Here is a list of some tips that can save you thousands down the road if you take action now.
Avoiding Water Damage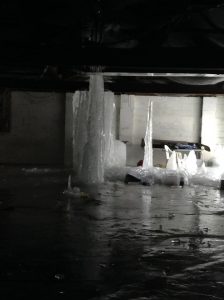 Inspect all appliances that use hot water. These appliances can include hot water tanks, washing machines, ice makers, and refrigerators. Be sure to check for any leaks or small puddles of water surrounding the machinery. Also, check to make sure they are in working condition and are securely attached to their foundation.
Examine all gutters for blockages. Frequently inspect the gutters, especially around the fall seasons for any leaks or blockages. If water cannot pass through, it will begin to freeze as the temperatures drop. This not only damages the gutters but causes the water to overflow, spill over the sides, and seep into your foundation. You may then find water damage in your basement.
Be mindful when planting vegetation. When planting large trees, you will want to be mindful of where their roots can and will grow. As in the cases of large trees (such as weeping willows), they can wrap around any pipes (drainage fields, pipes, septic tanks, and sprinkler systems), adding extra pressure.
Frequently check the water bill. If there is a leak within the pipes anywhere within the home, chances are it could reflect on the water bill. When this occurs, be sure to check all pipes and appliances for any leaks.
Use a drain snake instead of chemicals to unblock any drains. Drain cleaning chemicals, such as Drano, will deteriorate the pipes. Instead, it is best to use either a drain snake or a bent wire hanger if the blockage is not far away from the drain.
Do not pour any form of grease down the drain. Although it is obvious that grease should not be poured down the drain, it still happens. But when it does, the grease will stick to the pipe walls, causing blockages and eventually leaks if not treated right away. The safest option to dispose of grease is to pour it into a can, allowing it to sit overnight, then throwing it away in the morning.
While it is possible to prevent many cases of water damage, it can happen to anyone at any point in time. If this happens to you or a loved one, be sure to call our water mitigation specialists at (888) 915-8868 for emergency water damage restoration services.
If you have any questions about our water restoration services, you can refer to our water extraction and flood cleanup FAQ page.
How to Avoid Fire and Smoke Damage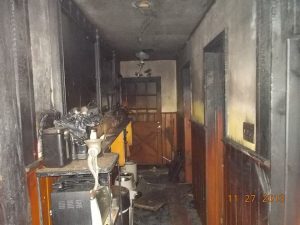 Be sure that all smoke alarms are functioning properly. In addition to supplying each room with its own alarm, you must have easy access to a working fire extinguisher. The best places to store it would either be in the kitchen or in a utility closet.
Schedule regular appointments with appliances that control heat. A malfunctioning heating appliance is only a recipe for disaster. These can include the chimney, fireplace, heating systems, and furnace. Avoid using broken appliances at all costs until they have been deemed safe to use by a professional.
Do not overload any circuits. Plugging in too many electronic devices at once will cause an overload. But exactly how many watts is considered the maximum? RestorationMaster recommends a 1500 watt maximum usage on each circuit.
Never walk away from a burning stove. Especially with young kids and pets, never turn your attention away from the stove, even to go to the bathroom. As open flames and hot burners can easily cause 3rd degree burns, they are also among the most common cause for house fires.
Never smoke inside. As the ashes or the lit cigarette butts themselves can fall on the floor, it won't require much to turn into a flame. Instead of smoking inside, go outside, or at the very least in the garage, away from flammable materials.
Always supervise an open flame. Burning candles are another common cause of house fires. Especially with young kids and pets, ensure they are not a hazard to be knocked over and causing a fire. We recommend using flameless candles, such as those with lightbulbs, to significantly reduce the risk of a fire.
Although the majority of property fires can be avoided, sometimes the damage has already spread before you realize a disaster has even occurred. If this happens, be sure to call our fire and smoke damage repair technicians at (888) 915-8868. They have undergone advanced training in addition to their years of experience in restoring properties from fire and smoke. Finally, contact RestorationMaster as soon as the flames have been extinguished.