When a fire occurs, the first concern for most people is evacuating safely, then dealing with the damage. What many may not realize is that the worst damage often comes from the soot and smoke after the fire has been extinguished. Burning synthetic materials often produce a smoke residue that can severely damage affected surfaces. The smoke also produces odors and soot that continue to spread throughout a home after the fire is out. The byproducts from burnt synthetic materials and soot from the smoke cause etching and tarnishing on household surfaces and objects. This will become permanent without immediate restoration.
RestorationMaster provides soot and smoke damage restoration in Connellsville, PA to clean and restore the affected surfaces and objects. Our technicians have experience necessary to take on large scale damage from smoke and soot. We use effective chemical cleaners that can remove tarnishing and etching from soot.
Damage from Soot and Corrosive Byproducts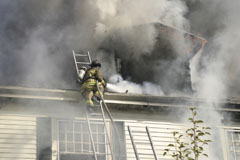 When a fire is extinguished, the soot and corrosive byproducts produced by burnt synthetic materials are still active. These substances have been known to affect areas that the fire itself did not reach. But it only takes about 72 hours for the damage they cause to become permanent. We effectively remove etching caused by soot and corrosive byproducts by restoring marble, aluminum, brass, porcelain, stainless steel, tile, furniture, and carpeting with our chemical cleaning products. These services from RestorationMaster will save your most valued possessions from permanent damage.
Smoke Damage Restoration
Not all the damage caused by smoke is visible; it can leave a foul, lingering odor in your home that is not easily eliminated. Smoke odors can linger for so long because porous building materials like wood and drywall as well as carpeting and upholstery absorb the smoke and hold the odor. The only way to effectively remove smoke odor is with professional services. The soot and smoke damage restoration technicians at RestorationMaster use advanced equipment and methods such as hydroxyl technology, ozone, and Nano carbon technology to ensure that the smoke odor is completely extracted from the air space and affected materials. After the odor is removed, we will proceed in taking the proper steps to ensure your home stays odor-free.
If your home or business in Connellsville, PA is affected by a fire, remember that the damage does not stop with the flames. Your home and belongings could suffer extensive damage from smoke and soot that will becomes worse and even become permanent. But our soot and smoke damage restoration technicians have the experience and the equipment to reverse the effects of soot and corrosive byproducts. RestorationMaster is available 24 hours a day at 888-915-8868 for emergency smoke and soot removal services.