The harsh winters in the New York City area bring unique challenges for homeowners and business owners as below freezing temperatures can freeze the water in your pipes.  It is common for pipes in uninsulated areas of a home or building to freeze in cold weather and ice in the pipes or sprinkler system can lead to a burst that causes water to spill out and soak the surrounding area.  ServiceMaster Restoration by Complete can remove the water caused by burst pipes and sprinkler heads from your home or business in Brooklyn, NY.  Our technicians will dry and restore the affected area and refer you to a professional who can repair the damage to your pipe or sprinkler.
Frozen Pipes and Sprinklers
The pipes for the plumbing and sprinkler system are typically found behind walls or in areas that may be uninsulated like the attic or basement.  As the temperature drops below freezing, the water in unprotected pipes will freeze and expand until it puts enough pressure on the pipe or fixture to burst.  Burst pipes and sprinkler heads cause major leaks that can release hundreds of gallons of water and lead to extensive damage in the home or building.
If a pipe or sprinkler head bursts in your home or business, you must turn off the water at the emergency shut-off valve and call our professionals for assistance immediately.  Our technicians are water damage restoration experts and will work quickly to remove the water and restore the resulting damage.  We use advanced water extraction equipment to remove standing water that has spilled into your home as well as dehumidifiers and drying equipment to extract all moisture from the affected materials.
Preventing Frozen Pipes
Because burst pipes create such a mess, it is best to prevent them from freezing in the first place.  Follow these tips during cold weather to help prevent frozen pipes:
Keep the water on slightly so that it is constantly dripping out of your faucets. The movement of the water will help prevent freezing within the pipes.  Make sure to open the hot and cold water valves on the faucets.
Open the base cabinets under your kitchen and bathroom sink to let warm air circulate around the pipes.
Use electrical heat tape or pipe insulation on pipes that are in uninsulated areas.
Put a space heater in your crawlspace, basement, or attic to keep the temperature above freezing.
Bring in all hoses from outside and shut off the outside water supply for the winter.
Finding Frozen Pipes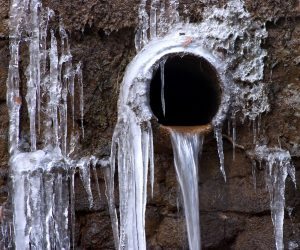 If there is little to no water pressure coming out of your faucets, you may have a frozen pipe somewhere in your home.  It is very important to find frozen pipes before they burst so you can attempt to thaw them out.
Try to identify the supply line with the frozen pipe.
Turn on one of the faucets on the supply line.
Follow the pipe from the faucet to where it passes through uninsulated areas such as the basement, crawlspace, or exterior wall.
Frozen sections of the pipe will usually be covered in frost or ice. Bulges and fissures are also signs that a pipe is frozen.
Thawing Frozen Pipes
If you locate a frozen pipe before it bursts, you must try and thaw it out immediately.  However, this can be difficult if the pipe is behind a wall.  There are three options you can choose to thaw a frozen pipe behind walls:
Turn up the heat to try and thaw the pipe.
Heat the spot of the wall where the pipe is located with an infrared lamp. These lamps can apply heat directly to the wall and warm up the frozen pipe.
Remove the drywall near the frozen pipe so you can thaw it with a heat lamp or hair dryer. A hair dryer is a safe and effective way to thaw a frozen pipe.  Turn on the faucet and use the hair dryer to start heating the pipe at the blockage and work your way back to the faucet.  You should never use a flame torch to thaw frozen pipes.
During the winter, make sure you inspect your home for frozen pipes and follow these tips to thaw them out and prevent pipe bursts and frozen sprinkler heads.  A busted pipe or sprinkler head can spill enough water in your home or building to cause widespread damage that is expensive to restore.  If you experience a burst pipe or sprinkler head in your home or business in Brooklyn, NY, shut off the main water supply and call ServiceMaster Restoration by Complete immediately.  You can reach us 24 hours a day at (347) 380-8388 for emergency assistance.
---
Recent Reviews
Review by

Shayon M.
for
Disaster Restoration
Rating

"The project manager and his team were very efficient and knowledgeable. Quick turnaround on all the issues we had at home."
---
Review by

Daniel C.
for
Disaster Restoration
Rating

"Work was excellent. Your people are very hardworking and conscience. I am very satisfied and would certainly recommend service master to friend and neighbors"
---
Review by

Valarie B.
for
Disaster Restoration
Rating

"All who worked did a great job, but there was a lack of communication between the various parties (insurance companies, condo association) about what work needed to be done to address the situation. The carpet was never removed. I'm not sure why."
---
ServiceMaster Restoration by Complete Reviews
Review us on Google