(409) 895-2588
The basement is the most commonly flooded area in a home because water can enter the basement due to sump pump overflows, burst pipes, or cracks in the foundation.  When flooding occurs in your basement, it is crucial to get the water removed as quickly as possible to prevent mold or mildew growth.  ServiceMaster Recovery Services by TLC provides flooded basement cleanup services for homes in Bridge City and Beaumont, TX.  Our technicians will arrive within 2 hours of your initial call to help limit the damage.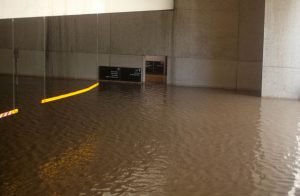 You should never hesitate to act on a flooded basement because the damage can become extensive and the basement is already more vulnerable to mold than the rest of your home.  If you have a finished basement, then it is especially urgent to call a water damage restoration professional to remove the water and restore any affected furnishings.  Our technicians provide complete flooded basement cleanup services using the best drying equipment available in the industry.  We can effectively remove water and excess moisture from the furnishings and air spaces in your basement and we can also provide wet carpet drying if your basement is carpeted.  Our flooded basement cleanup services consist of the following phases:
Emergency Response: We will evaluate the full scope of the damage in your basement.
Water Removal and Drying: Our advanced drying equipment will remove water from structural elements and furnishings and we also provide wet carpet drying if needed.
Reinstallation and Cleaning: We can move large objects for more thorough cleaning and replace or reinstall them once we are done.
Dealing with Burst Pipes
During the winter, there is always a risk of burst pipes as the cold temperatures cause water within the pipes to freeze and expand until the pipe gives way and bursts.  Pipes are most likely to burst in the basement or attic of a home where they are often exposed.  You can take preventative measures such as providing extra heat for your attic or basement and installing insulation over the pipes, but if a pipe does burst, you must react immediately to prevent extensive damage.  The technicians of ServiceMaster Recovery Services by TLC can remove the water and restore the damage caused by a burst pipe.  Make sure you keep an eye on your pipes during the winter to prevent them from freezing or bursting.
If your home in Bridge City or Beaumont, TX has a flooded basement from seepage, overflows, or burst pipes, make sure you contact ServiceMaster Recovery Services by TLC immediately for flooded basement cleanup.  We can thoroughly remove water and moisture from your basement to help prevent mold or mildew growth.  You can reach us 24 hours a day at (409) 895-2588 for flooded basement emergencies in Bridge City and Beaumont, TX.
---
Related Flooded Basement Cleanup Services
Flooded Basement Cleanup in Westlake and Lake Charles, LA
Flooded Basement Cleanup in Port Arthur, TX 
Flooded Basement Cleanup in Orange, TX