(337) 656-0443
Flooding within a home happens most often in the basement because water can seep through the cracks in the foundation or end up in the basement due to a burst pipe or sump pump overflow.  Basement flooding requires immediate attention because the excess water can spread to cause additional damage and eventually lead to mold or mildew growth.  ServiceMaster Recovery Services by TLC provides flooded basement cleanup services in Westlake and Lake Charles, LA to help clean up and restore homes that have experienced flooding in the basement.  We make sure to arrive within 2 hours of your call to stop the spread of the damage.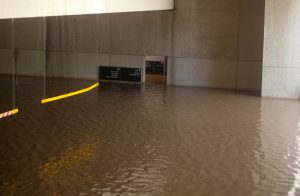 It is important to have a flooded basement cleaned up right away because ignoring it will lead to more extensive damage and increase the risk of mold growth.  Your basement is already more likely to have mold growth than other areas of your home and if your basement is finished, it requires immediate attention to prevent significant damage to the furnishings and drywall.  We use the most advanced drying equipment available in the industry to thoroughly remove water from your basement as well as the furnishings and structural elements.  If there is carpeting in your basement, we can provide wet carpet cleaning to restore it.  The flooded basement cleanup services we provide include the following steps:
Emergency Response: We will provide a complete assessment of the damage in your basement.
Water Removal and Drying: We can completely remove excess water and moisture from the structural elements and furnishings in your home as well as provide wet carpet drying.
Reinstallation and Cleaning: We will remove large objects to thoroughly clean them and the surrounding area and we will replace or reinstall any object that has been moved.
Dealing with Burst Pipes
Many basements have exposed pipes running through them and in the winter, these pipes are at risk of freezing or bursting.  When the water inside a pipe freezes, it expands and puts pressure on the pipe until it eventually bursts and causes water to spill into the basement.  There are several preventative actions you can take to prevent burst pipes such as keeping your basement heated or installing pipe insulation, but if you still experience a burst pipe, make sure to call the professionals of ServiceMaster Recovery Services by TLC immediately.  We can effectively remove the excess water from a pipe burst and restore the resulting damage.
Flooded basements are quite common in homes throughout the U.S. but if you experience flooding in your basement in Westlake or Lake Charles, LA, make sure you call ServiceMaster Recovery Services by TLC for flooded basement cleaning services.  We will remove all excess water and moisture with our advanced drying equipment and take measures to prevent mold growth.  Our phone lines are open 24 hours a day at (337) 656-0443 to respond to flooding emergencies in West Lake and Lake Charles, LA.
---
Related Flooded Basement Cleanup Services
Flooded Basement Cleanup in Bridge City and Beaumont, TX 
Flooded Basement Cleanup in Port Arthur, TX 
Flooded Basement Cleanup in Orange, TX