Locating mold anywhere on your property can cause stress and anxiety. For complete mold remediation services for home and business owners, contact Target Restoration in Victoria, TX.
Our IICRC-certified technicians will remove all cases of mold at their source and will work to prevent it from returning to your home in the future.
Mold spores can disperse throughout your entire property, affecting building materials and causing damage.
Exposure to mold can trigger a variety of health problems including allergy issues, asthma and breathing problems, coughing, sneezing, and skin and eye irritation.
This is why it is important to act fast when you discover mold growth.
Certified Mold Remediation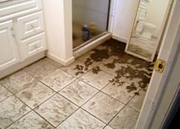 Home remedies including bleach and vinegar can be used to help get rid of the mold problem on your own if the area is small enough.  Unfortunately, there are no guarantees that the fungus has been entirely removed and will not return again.
Target Restoration uses products that are designed to eliminate mold spores, penetrating deep within the sources, and eliminating them from the inside. Our professionals are licensed by the Texas Department of State Health (DSHS) to remove mold and we are HIPPA-compliant.
We will work to contain the damage in the affected area to help prevent the problem from spreading during the service.  Removing mold will immediately alleviate any health hazards and for additional peace of mind, we will work with your insurance provider during the claims process.
Our mold restoration services include the following procedures:
Initial inspection:  Target Restoration will assess the safety risk by conducting a full inspection of the property.
Dehumidification: High-powered dehumidification equipment will be set up by our technicians in order to deter mold growth.
Mold remediation: Once we have eliminated moisture, we will then remove any materials that have been permanently damaged and conduct a thorough cleaning on the remaining hard surfaces. Our cleaning agents will not only penetrate the source, but will work to eliminate the problem from within.
Repairs: Replacement building materials will be installed.
Contents restoration: All personal belongings impacted by mold spores will be cleaned and dried out.  They will then be restored to their original state.
Final inspection: We will walk through the property with you to make sure that every area containing mold has been properly treated.
Our mold removal services can cover the following:
HVAC systems: Mold travels through air ducts which can lead to a number of problems.  Mold spores can infect your HVAC system and spread through the air, increasing the risk of new mold growth and related health effects.  We will eliminate this problem by applying cleaners to get rid of each mold spore within your HVAC system.
Abandoned property: Mold is quick to consume porous materials in its path if not properly cleaned or maintained.  It does not take a long time for mold infestation to set in on a property.  Target Restoration will come with professional equipment and attire to remove the mold and dry out the area to prevent fungus from reappearing in the future.  Additionally, we will conduct any necessary construction to permanently remove damaged materials from your property.
Long-term: Mold can develop in hidden areas including the attic, basement, crawlspace, under floorboards and behind walls.  Our technicians will identify and immediately eliminate mold at its source.  All structural components will also be repaired.
Call Us For A Free Estimate
Contact Target Restoration to properly address any significant areas in your home containing mold.  Once we arrive, we will immediately begin with an initial inspection, work to contain the damage within the affected area, dry out and repair the damaged structure, and prevent the fungus from entering your property in the future.
For professional mold remediation services in Victoria, TX, contact Target Restoration at (713) 966-6064. 
---
Related Mold Damage Restoration Services:
Mold Remediation in Cinco Ranch, TX
Mold Removal in Conroe, TX
Mold Damage Repair in Spring, TX
Mold Mitigation Specialists in Cypress, TX
Mold Removal Services in Rosenberg, TX
Mold Remediation Services in Mission Bend, TX
Mold Damage Cleanup in Katy, TX
---
Recent Reviews
---