(630) 352-0753
Water damage can happen due to a variety of reasons. Sometimes, it happens because of natural disasters like floods and storms. Sometimes, it happens because of pipe bursts and leakages, poor drainage, and other such internal problems. Regardless of the reason, it's vital to act quickly and remove the excess water from your property as soon as you can. At ServiceMaster Geneva-St Charles, we always treat water damage as an emergency because the longer it's allowed to linger, the more damage it can cause.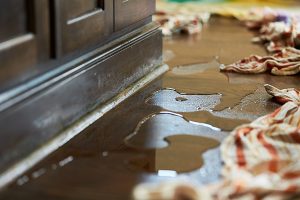 We offer quick and efficient water damage restoration services in St. Charles, IL to help homes and businesses that have sustained water damage. We use the latest water extraction techniques and equipment to remove excess moisture from your property. Our technicians are very thorough so you can be certain that the water will be eliminated from your property completely. We will also take preventive measures to address mold so that you won't have to deal with that problem later.
People often underestimate water damage and don't know how far it can spread in a short span of time. This is because most modern building materials are porous and water tends to seep into the material and damage it from within. Excessive water damage can compromise the structural integrity of the walls, floors, furniture, and other such installations, which is why it's important to address these problems quickly.
We will arrive at your property and immediately begin the water extraction process. We'll make sure that there's no trace of moisture before we consider our job done. With our help, you can be sure that your property will be as good as new.
Our Water Damage Restoration Process Includes:
A complete assessment of the water damage
Water extraction with the latest equipment
Application of anti-microbials to keep pathogens at bay
Drying the property with air movement
Removing moisture from the air with dehumidifiers
Monitoring the property to ensure there's no lingering moisture
We will respond to your calls 24/7/365 so give us a call at any time if you experience water damage in St. Charles, IL. Our technicians will be dispatched immediately after your call and should arrive at your location within 1 to 2 hours. If you have water disaster-related problems, just call us at (630) 352-0753 for assistance.