The possibility of a violent crime or major accident happening to you or someone you know may be small, but knowing how to react in such a scenario is crucial.  You must call emergency responders such as law enforcement and EMTs immediately and if the scene contains biohazard materials like blood and bodily fluids, keep your distance because these materials could contain disease causing viruses and bacteria.  It takes a highly trained and licensed professional to safely clean up biohazard materials.  ServiceMaster Geneva-St. Charles provides trauma and crime scene cleaning services to thoroughly clean and disinfect the scene of a serious injury or death in St. Charles, IL.  We can safely remove biohazard materials and reduce the risk of negative health effects with complete disinfection.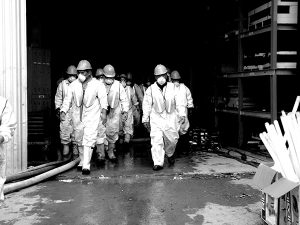 The most dangerous aspect of the scene of a violent crime or accident is the biohazard materials left behind.  Any biohazard materials like blood, tissues, and bodily fluids are potentially infectious because they could contain disease causing agents like viruses and bacteria.  Attempting to clean up biohazard materials will only increase the risk of spreading disease and infection.  The technicians of ServiceMaster Geneva-St. Charles are properly trained and equipped to remove biohazard materials and our advanced cleaning products and disinfectants will ensure that the area is safe to use.  All biohazard materials are taken to a licensed medical waste facility where they can be disposed of safely.
We perform the following actions with our trauma scene cleaning services:
Total removal of blood and other biohazard materials
Complete cleaning and disinfection of the scene to reduce the risk of negative health effects
Transport of biohazard materials to a medical waste facility according to proper protocol
Compliance with local, state, and federal health regulations
Regardless of the situation, losing a close friend or family member is difficult, but losing a loved one to a tragedy can be a very bitter experience.  We understand the emotions involved with these situations and do our best to help ease the burden by treating those who are grieving with compassion and respect.  Our technicians work quickly to remove all traces of the tragedy and return the area to a safe, usable condition, and we also protect your privacy during the restoration by using unmarked vehicles.  If law enforcement is conducting a crime scene investigation, we can work with them to ensure that we don't interrupt or compromise the investigation.
If you discover the aftermath of a violent crime or accident on your property, try to stay composed, avoid any biohazard materials, and call law enforcement immediately.  ServiceMaster Geneva-St. Charles is available 24 hours a day to provide emergency trauma scene cleaning services in St. Charles, IL and we will work with law enforcement to ensure that the area is thoroughly disinfected and ready to use.  You can reach us any time at (630) 352-0753 for emergency services.