(630) 352-0753
When a disaster happens, it's easy to focus on structural elements like floors, drywall, and big pieces of furniture. Most people don't realize just how easy it is to sustain damage to smaller personal items as well. Mold, water, and fire can easily ruin your personal items like small pieces of furniture, trinkets, decorative items, clothes, etc. It's important to either pack up or remove these things from your property immediately after the disaster. Some items just aren't replaceable so the insurance money doesn't help.
At ServiceMaster Geneva-St Charles, we make sure your personal items are packed and secured before they're permanently damaged by the disaster. We can clean and restore the items on-site or remove them from your unstable property and transport them to our facility for restoration.
Content Cleaning and Restoration in St. Charles, IL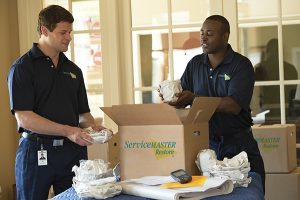 Some personal items have more worth than money as sentimental value makes them irreplaceable. If you want to avoid permanent damage, you need to get them cleaned and restored immediately. Our experienced and well-trained technicians will do their best to remove all traces of damage from your personal items. We'll use the latest equipment and techniques to remove water damage, soot, and smoke damage from your valuable items so that they look as good as new.
Personal items are often delicate, and the lingering effects from water and fire related disasters can cause permanent damage. We repair the problem on-site if your property is considered safe to use. If your property is unsafe, we'll pack up the contents and take it to our facility for repairs and restoration.
Pack-Out Services in St. Charles, IL
Natural disasters like floods and fire can often leave a property dangerously unstable. This doesn't mean that contents inside the building can't be salvaged and repaired. Our well-trained technicians will remove your personal items from the site if it's deemed too risky to work on. We will pack all your items meticulously and transport them to our warehouse. Once the items reach the warehouse, they'll be unpacked, cleaned, repaired, and restored carefully.
Our Pack-Out Services Include:
Assessment – We'll carefully examine all of the items and take note of the extent of the damage before we pack and transport them. This helps us keep track of the items and protect them from damage during the transport.
Packing – Once our assessment is complete, we pack the items with tried and tested methods to ensure they're not damaged in transit.
Restoration – After the items are unloaded and unpacked, we carry out the restoration work. We know what kind of cleaning and finishing agents to use for different materials so our restoration won't harm your items in any way. Once our restoration and repairs are complete, we'll store the items in a climate controlled room until they're ready to be taken back to your property once again.
At ServiceMaster Geneva-St Charles, we believe that your personal items can be restored to their original condition with a little skill and effort. Give us a call at (630) 352-0753 immediately after a disaster for restoration and content cleaning services in St. Charles, IL.