(630) 352-0753
There are several common natural disasters that can lead to intense structural damage to your home or building and when such damage occurs, you must take immediate action to prevent it from getting worse.  Disasters such as major storms, accidents, floods, and fires can compromise the structural integrity of your home or building and cause serious exterior damage which invites rain, wind, and vandalism.  The structural core must be stabilized and secured immediately or else the damage could get much worse.  ServiceMaster Geneva-St. Charles provides emergency board up services in St. Charles, IL to stabilize homes and buildings that are heavily damaged and board up holes in the roof and exterior to keep it secured.  Our board up services will temporarily protect your home as you plan the reconstruction process.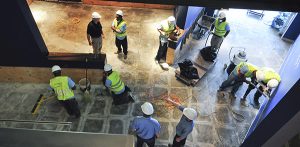 Major damage from a disaster usually happens with very little warning and it can really catch a homeowner or business owner off guard.  If the structural integrity of the building is compromised, this creates a very dangerous situation because the building is at risk of collapsing.  Heavily damaged buildings may experience further damage if a disaster has left holes in the roof or siding because wind, rain, vandals, and animals can find their way inside and make matters worse.  It is crucial to get your home or building secured as quickly as possible.   At ServiceMaster Geneva-St. Charles, our technicians are ready to respond to your emergency and get your home or building boarded up to stabilize the damage.  These services will not only prevent the structural damage from getting worse, but also protect it from bad weather or vandalism by covering up openings in the roof or siding.
The board up services we provide include the following:
Temporary enclosures
Roof tarping
Board up of all openings
Barricades if deemed necessary
You cannot hesitate to react once your home or building has been heavily damaged because leaving it unstable is very dangerous and could result in more permanent damage.  You must have the home or building boarded up immediately to limit the structural damage and protect it from the weather, vandals, and other potential issues.  ServiceMaster Geneva-St. Charles is available to provide emergency board up services for your heavily damaged home or building in St. Charles, IL.  You can reach us 24 hours a day at (630) 352-0753.