Experiencing water damage in your home can be a major problem if it is caused by a sewage backup or flooding that contains sewage water.  Sewage backups occur when a blockage in the sewer line prevents the waste water from exiting your home, and if your home is affected by a natural flood, there is always a chance that the water could contain sewage.  You must call a professional immediately if you suspect sewage in your home because any hesitation to remove it will result in significant property damage and serious health issues.  ServiceMaster Geneva – St. Charles provides sewage backup cleaning to safely remove sewage backups and flood water that may contain sewage from homes in St. Charles, IL.  You can count on our professionals to remove every trace of the sewage water and restore the area to a safe and sanitary condition.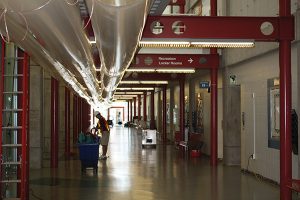 Excess water and moisture that contains sewage can cause considerable property damage by spreading through porous building materials like wood, flooring, insulation, and drywall.  The absorption of sewage water by these materials leads to structural damage as the materials become weaker, and allows the dangerous toxins and microorganisms to spread.  These microorganisms and toxins such as bacteria can cause serious health effects including infection or illness.  This is why you must avoid contact with sewage water and call a professional that is licensed and equipped to safely clean it up.
Our technicians at ServiceMaster Geneva – St. Charles can safely remove all water and moisture contaminated with sewage as well as left over residue and unpleasant odors.  We use powerful cleaning products and disinfectants to clean up the area and reduce the risk of negative health effects from the sewage.
You can expect the following with our sewer backup cleaning services:
Sewage Extraction: We completely extract all water and moisture that contains sewage with our advanced equipment.
Cleaning, Disinfection, and Deodorization: Our technicians use the best cleaning products available to clean and disinfect the damaged areas. We also use advanced deodorization techniques to remove any lingering odor.
Drying and Dehumidification: We place dehumidifiers around the damaged area to extract all moisture from the affected building materials, furnishings, and air spaces.
Any amount of water in your home that contains sewage requires an immediate response to help prevent serious property damage and possible health issues.  As soon as you find sewage in your home in St. Charles, IL, contact ServiceMaster Geneva – St. Charles immediately.  We will ensure that all sewage water is removed and that your home is dry and safe for use.  You can reach us 24 hours a day at (630) 352-0753 to respond to your emergency.