(630) 352-0753
Fire can cause an enormous amount of damage to a property, even after it's completely extinguished. That's why it's important to start working on the restoration work immediately after the property is declared safe by the fire department. The lingering byproducts of fire like soot and smoke can damage your drywall, floors, furniture, and other such structures in your property. They're very corrosive and can sink into different materials and fabrics to ruin them permanently. If you don't address the problem quickly, you'll have to replace damaged items instead of just restoring them.
At ServiceMaster Geneva-St Charles, we can handle all kinds of fire damage and have the skill and equipment to restore large commercial or small residential properties. We will use advanced cleaning equipment, products, and techniques to remove all traces of soot and smoke from your property.
Our technicians will ensure that these byproducts don't have the chance to settle on the materials and cause etching and discoloration. Burnt synthetic materials like rubber and plastic can produce a foul odor that can linger for days. Our technicians will ensure that the indoor environment is clean, fresh, and odor-free.
Fire and Smoke Damage Restoration in St. Charles, IL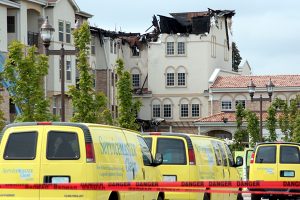 We've been a part of the fire damage restoration industry for a long time and are familiar with effective techniques to address the problem. Our technicians are well-trained and have IICRC certification so they can handle all kinds of fire damage. We have worked on residential as well as commercial fire damage restoration projects and know how to identify and contain the problem to minimize the damage.
Our first step after arriving at your property is to isolate the burnt areas and pre-clean. The goal is to remove all traces of soot and smoke as quickly as possible because it can cause extensive damage. We will use the best chemical cleaners available to remove corrosive byproducts of the fire from different kinds of surfaces. Our services include
Immediate pre-cleaning as we arrive at your property
Content cleaning to remove traces of soot and smoke from personal items
Content pack-out to remove personal items from an unstable environment
Odor removal
Wall and ceiling cleaning
Our technicians will thoroughly assess the extent of the damage and create a solid fire damage restoration plan to address the problem. Just give us at ServiceMaster Geneva-St Charles a call at (630) 352-0753 and we'll respond quickly. Our lines are open 24/7 and for 365 days a year.