The carpet in your home or office covers much of the space, which makes it a very important furnishing. It sees a lot of foot traffic, which causes it to become dirty, dull, and damaged very quickly. This kind of soiling and wear and tear creates a very poor impression on anyone that visits your home. Commercial property owners in St Charles, IL have to be even more careful as ill-maintained carpeting can affect your business by impacting the impression your visitors, clients, customers and staff have about how you run your business.
The one way to ensure that the indoor environment on your property is healthy, comfortable, and clean is to and make sure that all the carpeting is free of odors, stains, dust, and debris with professional cleaning services. ServiceMaster Geneva-St Charles is one of the leading providers of carpet cleaning services and we have the experience as well as the resources to efficiently and professionally clean carpeting for commercial and residential properties in St. Charles, IL. It's best to get this kind of cleaning done at least once a year.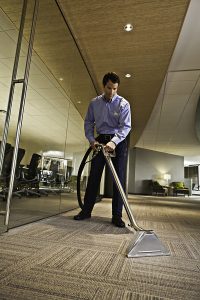 Regular foot traffic brings in a lot of debris and dirt into the carpeting and eventually, this debris starts impacting the fibers which results in deterioration and discoloration. Most property owners ensure that the carpeting in their homes, offices or retail establishments is vacuumed regularly, but that isn't enough to restore it to its original state. Only experienced and knowledgeable professionals can completely remove the debris and dirt and ensure that it is clean as well as stain and odor-free.
We use a specialized carpet cleaning process known as the hot water extraction method in which the latest and most advanced equipment is used to clean the carpet with a hot water cleaning solution. This solution is effective in pulling out even the most stubborn dirt and debris buildup and stains. It doesn't take more than 24 hours for the carpet to dry and you will have a clean and residue free carpet to use the very next day.
Carpet Cleaning Process in St Charles, IL
The steps we follow in the carpet cleaning process include the following:
Our experts inspect the carpet thoroughly to decide which cleaning method will work best
The loose dust and dirt will be vacuumed
Pre-treatment of all the spots and stains will be done
All embedded soil will be carefully loosened with a pre-spray
The hot water extraction method will be utilized to clean the carpet fibers
The post-treatment ensures there will be no lingering stains
The carpeting will be groomed to ensure it looks and dries better
The final inspection will be done with you
If you want the carpeting in your home or office building in St. Charles, IL professionally cleaned, you need look no further than ServiceMaster Geneva-St Charles. Our carpet cleaning experts use the effective hot water extraction method to significantly improve the look and lifespan of your carpet. For more information or for a free estimate, give us a call at (630) 352-0753.