Reliable Roofing
All commercial roofing systems are built for durability, but they may not last their entire lifespan unless they are regularly maintained by a professional roofing contractor. Over time, the roof is exposed to weather conditions and other natural elements that can cause minor damage, leaks, and general wear and tear.
By having a trusted roofing contractor provide regular maintenance, you can help prevent extensive damage and ensure that your roof is in the best possible condition. Roofing maintenance services will also protect your investment in your roof by avoiding serious damage and extending its life.
Licensed Commercial Roofing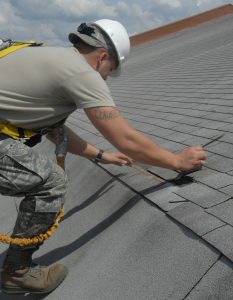 Reliable Roofing provides full roof maintenance services for businesses and commercial buildings in Crystal Lake, IL. Our comprehensive Roof Maintenance Program will help us ensure that any problems with your roof are addressed immediately to avoid serious damage and wear and tear that can shorten its life. Our technicians are highly trained to provide effective maintenance for any type of commercial roof.
Roof Maintenance Program
The goals of our Roof Maintenance Program are to find damage and leaks early to prevent serious issues, and take the necessary actions to avoid deterioration and prolong the life of your roof.
The roof maintenance services we provide include the following:
Full Inspection: Our technicians start our maintenance services with an inspection of the roof to look for damage, leaks, or wear and tear. We will then create a list of issues and recommended repairs needed to prevent serious issues. Having your roof regularly inspected by a professional will help you avoid expensive damage.
Repair and Replacement Cost Analysis: As we review the list of issues and recommended repairs with you, we will discuss the costs of the repairs and help decide what repairs can be made within your budget. We will continue to update this document with new details regarding damage and repairs with each maintenance service.
Roof Repair and Replacement Schedule: If we notice a problem with your roof, we will schedule the repair to make sure the problem is addressed before it gets worse. We can also give you an estimate of the life expectancy of your roof so that you will know when to expect to replace it.
Manufacturer's Warranty: Many roofing manufacturers will cover roof replacement under warranty if it needs to be replaced within the first few years. These manufacturers may not honor this warranty unless you keep up with semi-annual inspections and general maintenance. Our technicians keep detailed reports of our maintenance work which will help you meet the conditions of your warranty.
Maintenance of Documents: We record the details of our maintenance reports in our database to have a history of the repair work we have done for your roof. This will help us keep up with the maintenance of your roof and take notice of any potential problems.
Return on Investment: Having regular maintenance work done on your roof will help protect your investment by preventing expensive damage and extending its life. It has been shown that every $1 spent on roof maintenance will save you $3 in repairs or replacement.
The Roofing Maintenance Program that we offer at Reliable Roofing will help you protect your roof from serious damage and provide necessary upkeep to help it last. Contact us at (815) 981-9801 for more information about our roof maintenance services in Crystal Lake, IL.
---
Recent Reviews
Review by

Frank
Rating

"We are all so impressed with the new roof on our church and the adjoining school! We will use Reliable Roofing every time we have a roofing need"
---
Review by

Jacqui.
Rating

"Reliable Roofing has been my roofer for many years and their expertise, reliability and professionalism is why I will never use another roofer."
---
Review by

Peter
Rating

"I appreciated the professional manner and all around cleanliness of the crew that put the new roof on our office."