Reliable Roofing
The protection that a roof provides a commercial building is important for keeping the people within safe, as well as the assets and property of a business or organization. Commercial roofing systems are very durable, but they may still sustain damage or leaks from a storm, animals, or other factors. If the damage to a commercial roof is not addressed right away, it can lead to much more serious and expensive structural issues.
Failure to repair minor damage or provide regular maintenance can also contribute to deterioration that can drastically shorten the life of the roof. Because commercial roofing systems are complex, they must be repaired and maintained by a trusted commercial roofing contractor.
Professional Commercial Roofing Services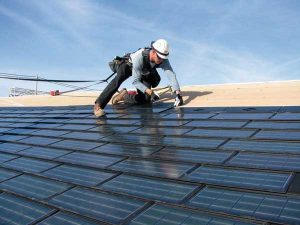 Reliable Roofing is a leader in commercial roofing that provides a full range of services for businesses and institutions in Crystal Lake, IL. Our technicians can repair and maintain any type of commercial roofing systems using superior products from the top manufacturers of the roofing industry. We are fully licensed and bonded to provide commercial roofing services in the state of Illinois, and our work is covered by our $10 million insurance policy. You can trust our roofers to provide quality, cost effective maintenance, repair, and installation or replacement with extreme attention to detail.
As a member of the National Roofing Contractors Association (NRCA), you can expect our professionals to effectively repair and maintain any commercial roofing type to help preserve its integrity. We can service the following types of businesses and institutions:
Office buildings
Corner and retail stores
Warehouses
Churches
Restaurants
Hospitals and healthcare facilities
Schools and universities
Trusted Commercial Roofing Contractors
Any problems with the roof of a commercial building can develop into more serious issues which will cost your company more money and compromise the safety of your customers, employees, students, or patients. We understand the urgency of these issues which is why we will respond within 24 hours of your request.
Our commercial roofing services consist of the following:
Commercial Roof Repair: As mentioned above, there are many factors that can cause damage to a commercial roof at any given time. Our technicians will locate and repair leaks and minor damage to prevent more serious issues.
Commercial Roof Replacement: If the roof has become seriously damaged or worn out, our technicians can replace it with a new roof.
Installation: Our technicians can fully install a new commercial roofing system for existing buildings and new construction.
Roof Construction: We can rebuild heavily damaged roofs according to construction protocols.
Commercial Roof Maintenance: We provide regular maintenance for commercial roofing to help prevent major damage and deterioration.
Sheet Metal Roofing: Sheet metal roofing has become a much more popular choice for commercial buildings because it is durable and energy efficient. We can provide full roofing services for sheet metal roofs including repair, maintenance, and installation.
Roofing Product Selection: Reliable Roofing has built professional relationships with the industry's most trusted manufacturers to ensure that we use the best products for your roof.
Even though commercial roofing is very durable, it can still experience damage and deterioration that can cause problems and shorten its life. Having your commercial roof serviced and repaired by a professional will help prevent major issues and deterioration, helping you get the most out of the life of your roof.
If you need a roofing contractor to service the roof of your commercial building in Crystal Lake, IL, contact Reliable Roofing at (815) 981-9801. Our roofing professionals can handle any commercial roofing services including repairs, maintenance, and installation.
---
Recent Reviews
Review by

Frank
Rating

"We are all so impressed with the new roof on our church and the adjoining school! We will use Reliable Roofing every time we have a roofing need"
---
Review by

Jacqui.
Rating

"Reliable Roofing has been my roofer for many years and their expertise, reliability and professionalism is why I will never use another roofer."
---
Review by

Peter
Rating

"I appreciated the professional manner and all around cleanliness of the crew that put the new roof on our office."