When a person is affected by hoarding, the problem is usually misunderstood by those around them. However, it is an issue that can be harmful to both the affected individual and their family. Individuals who struggle with hoarding have a mental disorder that manifests into the behaviors commonly associated with hoarding. The individual typically has depression and anxiety, which prevents them from ridding of contents and other belongings from their home. Eventually, they'll accumulate so much stuff that it poses a safety hazard: blocking access to certain areas of a home, encouraging mold growth, and acting as tripping hazards.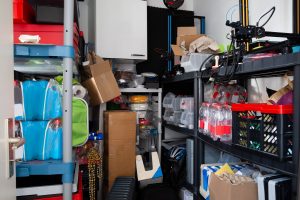 When approaching a hoarder about having their home cleaned, you need to be sensitive and respectful about it. When a hoarder agrees to have their home cleaned, contact Hydroforce Cleaning and Restoration for the hoarding cleaning services we provide to Orland Park, IL. We can do a complete cleaning of hoarders' homes, which includes removing hoarded items and ridding of any biohazard materials. In collaboration with the hoarder, we figure out what belongings to keep and what belongings to remove.
After removing unwanted items, we do a complete cleaning and disinfection of the home. The technicians we employ have all undergone a thorough background check and will be respectful and sensitive about all cases they work on.
Approaching a Hoarder
Hoarders rarely initiate cleanup on their own. Usually, they are either unaware of the issue or are embarrassed about it. It is most effective for a trusting family member or friend to reach out to a hoarder about the dangers of hoarding and the need for cleanup. Furthermore, cleanup should only be done if the hoarder is on board with it.
Whenever the affected person agrees to have cleanup conducted, get in touch with Hydroforce Cleaning and Restoration. To develop a connection with the affected person, we work in a trusting and respectful manner and assess the hoarding situation to create a cleanup plan.
We have the necessary equipment to remove a large amount of items and to conduct a complete cleaning and disinfection of the property. When removing items, the affected person gets to decide what to keep and what to get rid of.
The following are usually included within our hoarding cleaning services:
When deciding what items should be kept, thrown out, donated, or recycled, we work with the affected person to make these choices.
We are able to clean items and restore damaged contents.
When unwanted belongings are removed from the property, we proceed with a full-scale cleaning and sanitization of the home.
Anything that is unwanted is either thrown out or brought to family members, friends, or a charity.
When working with trusts and attorneys, we can help with the paperwork.
When dealing with hoarding scenarios, you may be unsure whether to involve insurance companies, but we can help you make that decision. If you choose to get your insurance provider involved, we will directly bill the company. We will also help keep out of pocket costs low with our price match guarantee that applies to non-covered claims.
We will match or beat estimates from other professionals that adhere to the IICRC's standard of care.
Call (630) 528-2865 to reach Hydroforce Cleaning and Restoration if you have a loved one in Orland Park, IL, who struggles with hoarding. 
---
Recent Reviews
Review by Carlos Casanova
Disaster Restoration
Rating 5

"This company goes the extra mile in helping customers in difficult circumstances. When my home basement had flooding problems, Hydroforce responded quickly and worked with me on financial constraints. I certainly recommend this company for honest and accurate work done well."
---
Review by Daniel Joseph Izaguirre
Disaster Restoration
Rating 5

"Great company to do buisness with i recommmend hydroforce"
---
Review by Jessica Carroll
Disaster Restoration
Rating 5

"Joe responded so quickly and provide a quick turnaround time with our water damage. His team was great, provided great service, and explained everything that needed to be done. Highly recommended!"
All Reviews