Serving the Georgetown area since 2008
When a natural disaster strikes a commercial building, it can be devastating for business owners. While they may believe that all of their hard work and important documents have been destroyed, this is not always true. Even if a building is left in critical condition, it can still be saved with emergency commercial restoration services.
ServiceMaster Restoration by Century is available 24/7 in the Georgetown, TX area to provide emergency help for businesses, restoring all affected building materials to their original conditions. Our technicians are both licensed and experienced to handle damages from all different sources, including fires, floods, and mold. We can also work with your insurance provider to allow you as much time as possible to attend to business matters.
Restoring a Safe and Healthy Environment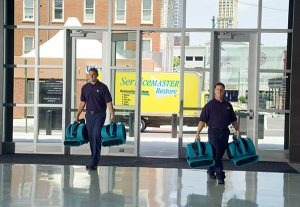 When a natural disaster has left a commercial building in a critical condition, there are many internal damages that can occur without our knowledge. This can include electrical and structural damage, toxic odors and biohazards, and sewer backups. It is extremely important that you nor your staff re-enter the building before our technicians have arrived to inspect the damage.
As we regard the safety of our customers and staff as the highest priority in our services, each of our technicians is professionally trained and experienced to stabilize the condition of the building and conduct the initial inspection to identify all at-risk areas. They will then begin working immediately to repair the damage, in addition to deodorizing, disinfecting, and applying additional repairs, as needed. Ultimately, we will ensure that the building provides a safe, healthy, and clean environment for you and your staff or tenants after the services are complete.
Emergency Commercial Damage Repair
At ServiceMaster Restoration by Century, we proudly service commercial buildings of all types and architectures, including anything from salons to manufacturing facilities. We have the capacity to handle both small and large properties to have them restored in a timely manner.
We are also able to restore these buildings from any type of natural disaster, including fires, mold infestations, sewer backups, and floods. No matter the type of damage, you can depend on us to arrive right away to return the building to its original condition with these professional services.
We proudly service all types of commercial properties, including the following:
Government buildings
Hospitals/healthcare facilities
Corner stores
Retail stores
Garages
Warehouses
Schools/universities
Office buildings
Commercial Water Damage Cleanup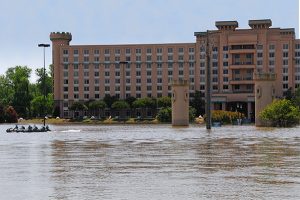 Due to the numerous type of sources, water damage is among the most common types of natural disasters. This can include thunderstorms, burst or leaking pipe, sewer backup, appliance malfunction, and more. Despite this, emergency services are still needed as the water is able to penetrate deep within the affected surfaces and cause permanent damage if it is not extracted right away.
The technicians at ServiceMaster Restoration by Century have each been trained and experienced to handle water damage cases of all types. Our powerful water damage restoration equipment is designed to remove the water from deep within the structure and fully dry out the affected surfaces. We will then disinfect the area to ensure that it is not at risk for future mold growth. Finally, we will ensure that the building is once again safe to re-enter after the service is completed.
Commercial Smoke and Soot Removal
Fires are, unfortunately, also common among commercial properties. As many businesses consume an enormous amount of electricity, circuits can become easily overloaded and spark a fire. While it can go unnoticed until it has spread beyond control, calling the fire department right away is essential towards preventing as much damage as possible.
But as soon as the flames have been extinguished, immediate action must be taken to clean the affected surfaces. As the lingering smoke and soot will settle into the affected building materials, they will cause etching and tarnishing to compromise their overall structure. When called right away, ServiceMaster Restoration by Century will arrive promptly to stabilize the structure, inspect the damage, and begin working on the most at-risk surfaces for permanent damage. Once we are finished, you can expect to return to a fully clean building provides a safe and healthy environment for you and your tenants or staff.
Emergency Restoration Services
If you have encountered severe damage on your commercial building, do not hesitate to take action right away. This will limit as much damage, costs, and time in repairs as possible. As soon as emergency services have been called, you can expect all affected building materials to be returned to their original conditions, ensuring you a safe and healthy environment once again.
Emergency Response
For 24/7 emergency commercial restoration services in the Georgetown, TX area, call ServiceMaster Restoration by Century at (512) 765-9630. We are available 24/7 and work with insurance to allow you to focus on business matters.
Related Commercial Restoration Services
Commercial Restoration Services in Magnolia, TX
Commercial Disaster Restoration in San Antonio, TX
Commercial Restoration Professionals in Pearland, TX
Commercial Restoration Company in Austin, TX
Commercial Disaster Restoration Services in Round Rock, TX
---
Recent Reviews
Review by

A.D.
Rating

"Your attention to detail. Appreciate your customer service and promptness in getting someone out to my home."
---
Review by

B.T.C.T.
Rating

"PROFESSIONAL, COURTEOUS, QUICK, NEAT AND KEPT US INFOR. WE WERE MED AS TO ALL ASPECTS OF THE PROJECTVERY SATISFIED."
---
Review by

J.J.
Rating

"Incredibly fast response!"