Serving the Georgetown area since 2008
Fire and Smoke Damage
Smoke and fire cleanup is a complicated process; therefore, it must be handled by professionals. With this kind of job, allow the specialists of ServiceMaster Restoration by Century, Georgetown, TX to handle your fire damage restoration and cleaning.  
Our services include the elimination of smoke damage, water damage, repairing and cleaning personal items, and more. At ServiceMaster Restoration by Century, we guarantee a quality restoration to your home, regardless of its present condition.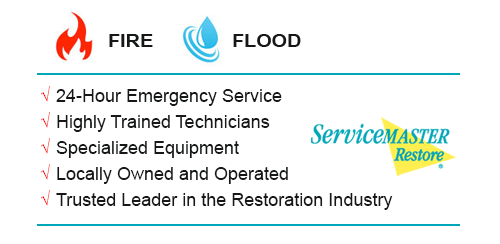 Our ultimate goal is to get your life back on track as soon as possible; therefore, we will do this by starting fire damage repair within three hours of your initial call. It is also essential to start the fire damage cleanup as soon as possible; this is to limit the impact of smoke damage.
Fire Damage Repair – Check Out the Video
For professional fire damage cleanup services in Georgetown, TX, call ServiceMaster Restoration by Century at (512) 765-9630.
Fire Damage Restoration
Our technicians will work with you throughout the fire damage cleanup to help you make the best decisions about the restoration or replacement of your property. The repair starts with a structural evaluation of major components of your residence; this includes the roof, walls, flooring, and insulation.  Removing smoke and water damage from extinguishing the fire are also key parts of restoring fire damage.  Once our experts determine which items are reusable, they know exactly which fire damage repair methods will be the most effective in making the items usable again.
Finally, we will work hand in hand with your insurance provider, guaranteeing you a quality fire damage restoration service at the best price.
Our Mission is to Restore Peace of Mind.
Request a quote for ServiceMaster Restoration by Century fire damage cleanup services in Georgetown, TX and surrounding areas – call (512) 765-9630 – 24/7!
Related Fire Damage Cleanup Services
Fire Damage Restoration in Pearland, TX
Fire Damage Cleanup in Magnolia, TX
Smoke Mitigation in Austin, TX
Fire and Smoke Damage Restoration in San Antonio, TX
---
Recent Reviews
Review by

A.D.
Rating

"Your attention to detail. Appreciate your customer service and promptness in getting someone out to my home."
---
Review by

B.T.C.T.
Rating

"PROFESSIONAL, COURTEOUS, QUICK, NEAT AND KEPT US INFOR. WE WERE MED AS TO ALL ASPECTS OF THE PROJECTVERY SATISFIED."
---
Review by

J.J.
Rating

"Incredibly fast response!"