If you have suffered a fire to your home or business, you have been faced with the overwhelming task of determining where to begin in the aftermath.  We understand the importance of turning to the professionals at a time like this to restore your property.
Target Restoration in Cedar Park, TX provides emergency fire damage restoration services for affected homes and businesses.  Our staff at Target Restoration is well trained and IICRC-certified and we will arrive on your property in a timely manner.  You can be sure we will completely restore all structures impacted by the fire and handle restoring personal content that may have been damaged as well.
Immediate Stabilization
Some fires cause such great devastation that the property is left in an unstable condition. Target Restoration will conduct a risk and safety assessment, stabilization, and tarping and board up services to stabilize your property and help prevent any additional damage.
Construction Interior and Exterior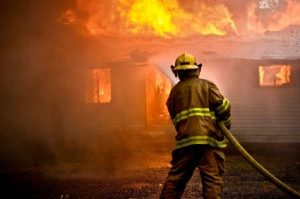 Our professionals will use building materials that are unique and consistent with the design of your home or business including flooring, walls, roofing, siding, etc.
Target Restoration will locate any hidden damage smoke and soot may have caused and we will conduct a thorough cleaning, followed by restoration of your property to its original condition. This is all included in our fire damage restoration services.
The following building materials will be covered on the interior and exterior of your property:
Cabinetry
Brick
HVAC system
Siding
Garage doors
Sidewalk and driveway concrete
Roofs
Paint
Doors
Fencing
Piping
Lighting
Drywall
Foundations
Fires can start anywhere and can be caused by many different sources including candles, ovens, dryers, oil and gas, barbecues, and bonfires. Our Master Fire Restorers and IICRC-certified technicians have more than 100 years of combined experience in professional fire damage restoration services.  We will be sure to address all areas of your property.
Content Cleaning
If your personal items have been damaged in the fire, we will work to address the damage and begin restoring them immediately.  Our goal is to prevent any permanent damage to your items, especially those with high sentimental or monetary value.
Common items we have restored include:
Important documents
Antiques
Photos
Furniture
Artwork
Collectibles
Jewelry
Target Restoration will help you recover any item that may have been damaged by soot and smoke byproducts, even items not listed above.  We will work with your insurance to determine whether it makes more sense financially to restore or replace each item. The belongings that will be restored can be cleaned either on-site at your property or in our warehouse during the restoration process.
Odor Mitigation
Once restoration has been completed, it is common to come across foul odors.  This often happens because smoke odors can become embedded within the porous materials of floors, ceilings and walls.  Professional equipment is required to fully eradicate outstanding odors.   Target Restoration uses thermal fogging, hydroxyl technology and ozone to help eliminate smoke odors from the inside by fully penetrating each odor particle.  You can begin breathing clean air again within 24 hours of our service.
Emergency Response
Target Restoration provides fire damage restoration services that will save you significant time and money on repairs while helping you contain or limit the damage caused by a fire.  Let us handle all the details involved in restoring your property following a fire.
Contact the licensed professionals at Target Restoration at (254) 613-7545 for emergency fire damage restoration services in Cedar Park, TX.   
---
Related Fire and Smoke Damage Restoration Services:
Fire Mitigation Services in Belton, TX
Smoke Damage Restoration Company in Temple, TX
Fire Damage Repair in Lake Jackson, TX
Fire and Smoke Damage Repair in Killeen, TX
Fire Damage Cleanup in Pflugerville, TX
---
Recent Reviews
---