Severe storms such as heavy rains and tornadoes may bring high winds and hail to the Dayton, OH 45406 area that could cause significant property damage. Strong winds from tornadoes or thunderstorms can damage the roof and siding of the house or even cause trees to fall and hail can cause damage to your car as well as your home. RestorationMaster provides hail and wind damage restoration services to homes and businesses in Dayton, OH to repair the damage caused by heavy winds and hail.
Wind Damage
Strong winds do not accompany every storm and it is difficult to prepare your property for wind damage. If your home or property does suffer from wind damage such as blown off shingles, damaged windows or gutters, or damaged building materials, make sure to contact RestorationMaster immediately for wind damage repair services. Our technicians are highly trained to perform effective wind damage restoration which includes:
Removal of fallen trees and branches from the property
Cleanup of broken glass and building materials
Temporary tarp installation and board up repairs
Spot roof shingle repairs
Permanent structural, roofing, and siding repairs.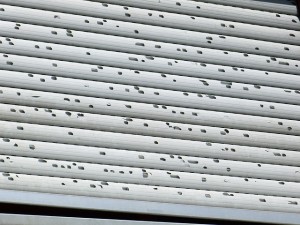 Hail Damage
Sometimes severe thunderstorms or tornadoes may be accompanied by hail which can also cause a range of problems. Hail may contribute to broken windows, roof damage, gutter damage, and damage to your vehicle. The trained technicians of RestorationMaster provide effective hail damage restoration services to repair any property damage caused by hail.
If your home or business in Dayton, OH is heavily damaged by hail or wind, contact RestorationMaster for hail and wind damage repair services. We also help our clients file insurance claims related to damage caused by hail or wind. Call us any time at (888)488-8822 for emergency wind and hail damage restoration services.