RestorationMaster is the number one provider of contents restoration and cleaning services in Dayton, OH 45406. We can restore and clean your personal belongings whether they need water damage repair or were damaged by fire or smoke. Our trained staff is equipped to handle any disaster circumstance.
We understand that dealing with loss after a fire or flood can be overwhelming emotionally and we help ease the stress by handling every aspect of the restoration and cleaning process from start to finish. Our staff is also sensitive to the difficulty of having your personal belongings in the care of strangers. Our clients do not have to risk further damage to their belongings from having different companies handle them; we can provide content restoration and cleaning as we work to restore your property.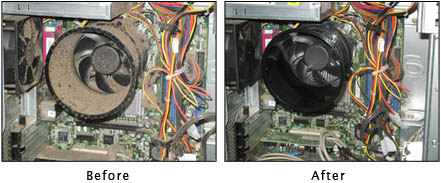 Contents restoration services include:
Full-service moving with scheduled pack-out and move-in
Individual, cataloged storage vaults
Climate-controlled warehousing
Multi-level security with 24-hour video surveillance
Deodorization system
Our in-house cleaning system and deodorization room allows us to clean and restore any personal items no matter how big, small, or sensitive. We can salvage the following items with content restoration and cleaning:
Televisions, game consoles, computers, and other electronics
Couches, chairs, and other large furniture
Pictures, artwork, and photo albums
Collectible items and memorabilia
Clothing, bedding, and other household items
Our content restoration and cleaning process includes these steps:
Initial on-site evaluation: We assess and record the current condition of your belongings and inventory them using our exclusive mobile technology which can be tracked anytime throughout the cleaning process.
Pack out of contents: We record the details of every item including photo documentation and cost so we can help file the claim quickly.
Transfer to our warehouse: We keep your contents in a private vault for safety and organization.
Cleaning Process: The Fireline Cleaning System and deodorization process removes the odor and soot from your belongings and they are repacked into new boxes.
Moving back in: We can store your items in our warehouse until your home is restored.
State-of-the-Art Technology
RestorationMaster is dedicated to providing quality content restoration services which is why we use the best equipment available. Our system is a one-source solution for content cleaning with specifically engineered processing equipment and cleaning agents that can restore many items that other companies may not be able to save.
If you are in need of content restoration services in the Dayton area due to a fire or flood, call RestorationMaster at (888)488-8822. We can restore all personal belongings and we are the only restoration company in Dayton, OH. We are available 24 hours a day to take your call.