It may be easy to spot water damage but it is not so easy to determine just how extensive the damage is because excess water can get absorbed in porous building materials like wood, drywall, and flooring.  Water damage is typically caused by wet weather conditions such as heavy rain, humidity, and floods or internal issues including plumbing leaks, burst pipes, and sewage backups.  Any type of water damage requires immediate attention because allowing it to spread will result in extensive damage and mold or mildew growth.  RestorationMaster provides water damage restoration services to remove excess water and cleanup the resulting damage in homes and businesses in Danbury, CT.  Our state-of-the-art drying equipment allows us to extract all excess water or moisture and we can also safely handle sewage overflows.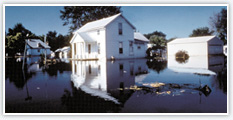 Excess water causes the most damage when it gets absorbed into the building materials of your home because it can lead to severe structural damage and mold or mildew growth.  You should never hesitate to call our professionals if there is excess water or moisture in your home as we will limit its spread to prevent significant damage or mold growth.  Each of our technicians has the training and experience to remove excess water and moisture from your home or building with the best drying and dehumidification equipment available.  Sometimes excess water in your home may contain sewage and we are equipped to safely remove sewage water as well as clean and disinfect the area.
Our water damage restoration services include the following:
Quick Response: It is important to act quickly to stop the spread of water damage. You can call us 24 hours a day, 365 days per year for water damage restoration in Danbury, CT.
Professional Inspection: Your home or building will be thoroughly inspected by a professional mitigation specialist to determine the extent of the damage using moisture detection equipment.
Open Communication: We will be available to you throughout the restoration process to address your questions or concerns and update you on the project.
Commercial Drying Equipment: Our commercial grade drying equipment can thoroughly remove water and moisture from the structural elements of a building as well as affected furnishings and personal items. It is important to remove excess water completely to help prevent mold growth.
Water damage can quickly become a serious problem by spreading through absorbent building materials and creating the right conditions for mold growth.  Make sure you call RestorationMaster once you find water damage in your home or building in Danbury, CT.  You can reach us 24 hours a day at (203) 721-6646 for emergency water damage restoration.