(203) 721-6646
The presence of mold in a home or building can become a major issue as exposure to mold can lead to a range of health effects such as allergies or respiratory problems and if given enough time, it can severely damage the surfaces it grows on.  Mold growth normally appears after water damage or an increase in moisture and its spores will spread the growth throughout the building until it is removed.  RestorationMaster provides mold remediation services in Danbury, CT to thoroughly remove mold growth and restore the resulting damage.  We will uncover and remove all hidden mold growth and address the moisture source to prevent it from returning.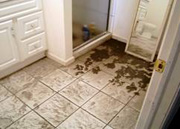 Mold spores only need a moisture source and an organic food source, typically provided by the cellulose in wood and drywall, to start growing.  Once a mold colony forms, it releases its spores which not only increases the risk of associated health issues, but also causes mold growth to appear in other areas of the home or building.  It can be ineffective and hazardous to your health to try removing mold yourself which is why it is important to call our professionals once you discover a mold problem.
You should keep these facts in mind when dealing with mold growth:
Mold growth is most likely to occur within 48 hours of experiencing water damage.
Flooding, leaks, and high humidity all create the right conditions for mold to grow.
Cellulose, an organic substance in wood and drywall, is a food source for mold.
Mold Remediation from  RestorationMaster
At RestorationMaster, we are experienced and equipped to provide effective mold remediation in commercial and residential settings as well as restore the damage to the affected furnishings and other surfaces.  We begin by containing the areas with mold growth so that it does not spread and cause additional damage, and then remove it using our advance cleaning methods and products.  Surfaces that are irreversibly damaged by the mold will be replaced.  If there is a musty odor in your home caused by the mold, we can effectively remove it with our deodorization services.
Mold growth requires immediate attention so do not hesitate to contact RestorationMaster if your home or business in Danbury, CT has been affected by mold.  We have the right cleaning products and equipment to effectively remove mold growth and we will also take measures to prevent the mold from coming back.  Our phone lines are open 24 hours a day at (203) 721-6646 to respond to your mold remediation needs.