Nu-Gen Cleaning & Restoration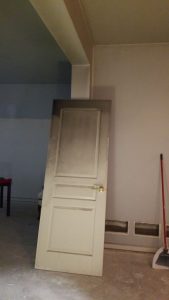 Fires are among the most dangerous disasters that can strike a home or building as they can cause devastating damage and put people in danger.  Putting out the fire can bring a sense of relief, but this will not stop the damage.  Smoke and soot created by the fire will continue to spread throughout the property and cause additional, even permanent damage.  This is why you need to start the restoration of your property as soon as possible after the fire is put out.
At Nu-Gen Cleaning & Restoration, we provide fire damage restoration services to help clean up and restore homes and businesses in Algonquin, IL.  Our technicians are certified to repair fire damage and clean up smoke and soot and we use the best equipment, cleaning products, and methods of the industry.  Our fast response and efficient restoration services will help you quickly get your home or business back on track.
Damage from Fire and Smoke
Fires cause several layers of damage that require immediate action and a specialized approach.  The fire itself burns through everything in its path, including structural elements that can leave a home or building unstable.  The heat from the fire and partial burning of affected materials also creates corrosive byproducts like smoke and soot that will cause damage even after the fire is out.
Corrosive byproducts like smoke and soot commonly spread to areas unaffected by the fire itself and settle on surfaces and objects.  The affected materials can be etched and tarnished by the corrosive byproducts and if they are not cleaned right away using professional methods, the damage can become permanent.  Calling our professionals for fire damage restoration right away will help limit the spread of smoke and soot and prevent these elements from causing permanent damage.
Affected By Fire Damage? Watch Our Video:
Professional Fire Damage Restoration
Our technicians provide emergency response after a fire to help limit the damage and start the cleaning and repair process.  We will stabilize heavily damaged homes and buildings and inspect the damage so we can form a restoration plan that addresses structural damage caused by the fire as well as damage from smoke and soot.  You can expect our technicians to fully restore your property to its pre-fire condition.
The following are included as part of our fire damage restoration services:

Evaluation of the fire and smoke damage
Structural stabilization and repair
Soot and smoke damage cleanup using powerful cleaners
Cleaning and restoration of damaged personal items
Water damage restoration from putting out the fire
Removal of permanently damaged materials
Deodorization
At Nu-Gen Cleaning & Restoration, our professionals are committed to providing the best possible fire damage restoration.  Our IICRC certified technicians can effectively repair, restore, and deodorize your property following a fire using the best methods and equipment of the industry.  We can also help clean and restore your personal items that were damaged by smoke and fire with our content cleaning and pack-out services.
Call Nu-Gen Cleaning & Restoration for Fire Damage Restoration
The damage from a fire can be devastating to your home or business and it will only get worse until you start the restoration.  Our technicians will arrive to your property immediately to limit the damage and begin the restoration process.
Nu-Gen Cleaning & Restoration is available 24 hours a day at (815) 569-0702 for emergency fire damage restoration in Algonquin, IL.