Nu-Gen Cleaning & Restoration
Mold growth is dangerous when it appears in homes and buildings because it can cause significant damage and affect your health.  If mold growth is not quickly addressed, it will continue to spread and cause further damage which can even lead to structural damage in some cases.  There is also a higher risk of experiencing health effects from exposure if the mold is allowed to keep spreading.  It is important to call a professional for mold removal as soon as you find mold growth.
At Nu-Gen Cleaning & Restoration, we provide mold remediation services to fully remove indoor mold in Algonquin, IL.  We use advanced remediation methods to find and remove all mold growth and restore the resulting damage.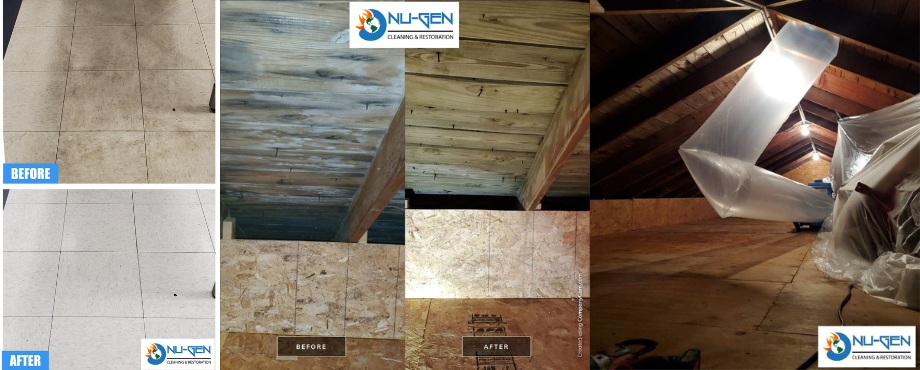 Damage Caused by Mold
Mold is most likely to appear in areas where there is excess moisture or water damage and it takes hold on surfaces and materials that contain cellulose such as drywall, wood, carpeting, upholstery, and wallpaper.  As the mold eats away at these surfaces, they may become weakened which can lead to structural damage.  The mold growth is also likely to spread to new areas by dispersing its spores.
The other major problem with mold growth is the possible health effects from exposure.  Mold is known to trigger a number of allergic reactions including headaches, nasal congestion, coughing, trouble breathing, skin irritation, and itchy eyes and throat.  It is also possible to experience more severe complications such as respiratory infections with prolonged exposure.
Found Mold? Watch Our Video for Next Steps:
Professional Mold Removal
If you find mold in your home or building, you should call our professionals right away to have it removed.  Our licensed technicians use advanced equipment and methods to find and effectively remove all mold growth from your property.  We will also restore the damage caused by the mold and address the moisture problem that caused the mold to appear.
The following steps are included with our mold remediation services:
Evaluation of the extent of the mold growth
Report of our findings for your insurance company
Containment of the affected areas to stop the mold from spreading
Removal of all mold growth and permanently damaged materials
Restoration and cleaning of the damaged areas
Call Nu-Gen Cleaning & Restoration for Mold Removal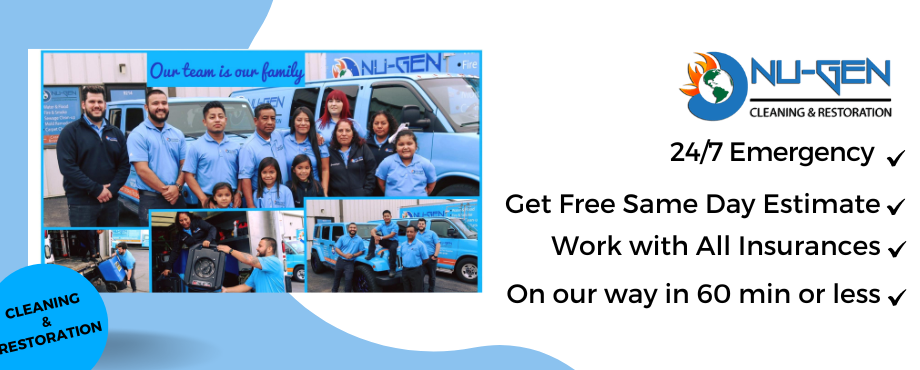 You should not hesitate to react to mold growth on your property or the damage and risk of negative health effects will increase.  Make sure you call our professionals at Nu-Gen Cleaning & Restoration to contain the mold and provide complete mold removal.  Give us a call at (815) 569-0702 for mold remediation in Algonquin, IL.
---
Recent Reviews
Review by

Kelly Ann
Rating

It is only the first day and the so far the professionalism and the kindness of the workers the cleanup and care of my property and furniture is above and beyond any company I have seen!! Absolutely outstanding and professional company hands down so far!!! Third day!! So far I have had Fransisco Jose Sha-ron Zeke Nick Joey as crew members and all absolutely amazingly outstanding truly and amazing company through and through their professionalism is by far hands down amazing! Great company great workers fast and thorough the owner Moises is on top of everything he actually came out he has had no issues answering questions when I needed I mean when they work for you.. they truly work for you with the utmost care and professionalism and the cleanliness it's unbelievable!
---
Review by

Stephen Abbs
Rating

I had a pipe freeze and burst at my home in the very early hours of Christmas Eve, around midnight. The water damaged my kitchen and went into my basement as well. I called Nu-Gen around 2:00am and Olga answered the phone and set up an appointment for me for the same day, between 8:30-9:30. After calling my insurance company, they said they would send out their own mitigation service so I cancelled my appointment with Nu-Gen. Well, the service that my insurance company contracted never showed up, but to my surprise Olga called me that afternoon to check on things and make sure I was okay. I was incredibly grateful for her checking on me because my insurance company failed me at that point. Later that afternoon Moises, the project manager, came out to assess the situation. They immediately set up the mitigation process and during the next couple of weeks, Moises - and his wonderful crew - Jose and Joey, were out several times to check on the progress of the drying and mitigation process. I am forever grateful for Nu-Gen's help and guidance throughout this entire process. I've recommended their services to my insurance company as well so that they could now have a reliable mitigation service to use in the area and I also expect to use Nu-Gen for the reconstruction work as well.
---
Review by

Dylan
Rating

Jose and Leti were wonderful, a third gentleman came to assist, I didn't get his name but they worked well together to solve a tricky dryer vent issue. After spending over an hour cleaning a vent that was no longer in use from second floor( unbeknownst to all of us) we learned previous owners rerouted out the roof. Not once did they act like they were annoyed by this discovery. Very professional and very friendly. I cannot recommend them enough. Great Job Nu-Gen.