Nu-Gen Cleaning & Restoration
Mold growth is dangerous when it appears in homes and buildings because it can cause significant damage and affect your health.  If mold growth is not quickly addressed, it will continue to spread and cause further damage which can even lead to structural damage in some cases.  There is also a higher risk of experiencing health effects from exposure if the mold is allowed to keep spreading.  It is important to call a professional for mold removal as soon as you find mold growth.

At Nu-Gen Cleaning & Restoration, we provide mold remediation services to fully remove indoor mold in Algonquin, IL.  We use advanced remediation methods to find and remove all mold growth and restore the resulting damage.
Damage Caused by Mold
Mold is most likely to appear in areas where there is excess moisture or water damage and it takes hold on surfaces and materials that contain cellulose such as drywall, wood, carpeting, upholstery, and wallpaper.  As the mold eats away at these surfaces, they may become weakened which can lead to structural damage.  The mold growth is also likely to spread to new areas by dispersing its spores.
The other major problem with mold growth is the possible health effects from exposure.  Mold is known to trigger a number of allergic reactions including headaches, nasal congestion, coughing, trouble breathing, skin irritation, and itchy eyes and throat.  It is also possible to experience more severe complications such as respiratory infections with prolonged exposure.
Found Mold? Watch Our Video for Next Steps:
Professional Mold Removal
If you find mold in your home or building, you should call our professionals right away to have it removed.  Our licensed technicians use advanced equipment and methods to find and effectively remove all mold growth from your property.  We will also restore the damage caused by the mold and address the moisture problem that caused the mold to appear.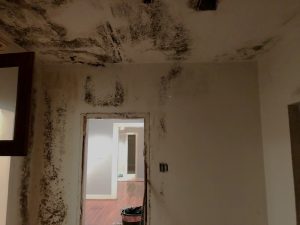 The following steps are included with our mold remediation services:
Evaluation of the extent of the mold growth
Report of our findings for your insurance company
Containment of the affected areas to stop the mold from spreading
Removal of all mold growth and permanently damaged materials
Restoration and cleaning of the damaged areas
Call Nu-Gen Cleaning & Restoration for Mold Removal
You should not hesitate to react to mold growth on your property or the damage and risk of negative heath effects will increase.  Make sure you call our professionals at Nu-Gen Cleaning & Restoration to contain the mold and provide complete mold removal.  Give us a call at (815) 569-0702 for mold remediation in Algonquin, IL.