(512) 765-9630
While it can be completely overwhelming to discover that your home or building is left in an unstable condition, it is crucial to know how to proceed in order to minimize extra time and costs in additional damage. As there may be a million thoughts running through your mind, these first few moments must be used to call for help. Call ServiceMaster Restoration by Century in Round Rock, TX right away to s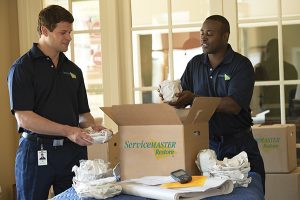 tabilize the condition of the property in addition to starting the reconstruction process.
Emergency Response
Our technicians will arrive quickly, securing all damaged areas while developing a custom plan for your home or building. As they are fully equipped to handle both commercial and residential properties of any size, they have years of experience in handling all aspects of the project. With advanced products and equipment, we can give you some peace of mind during this stressful time. We will also assist with insurance claims so you can attend to other matters.
As soon as the reconstruction professionals arrive, they will work to prevent additional damage and develop a plan that is guaranteed to restore your property to its original condition. Our team of reconstruction staff consists of handymen, carpenters, electricians, plumbers, and subcontractors that are all experienced in efficiently repairing your home or building. A project manager will also be assigned to oversee the job, keeping you informed along the way. Finally, you will be able to return to a safe and healthy environment in a timely manner.
Reconstruction and Restoration
In addition to the reconstruction, ServiceMaster Restoration by Century also provides emergency restoration services that are guaranteed to restore your property from any kind of damage. Whether caused by mold, fire, smoke, or water damage, you can be sure that it will be properly cleaned and returned to its original condition. In addition to their years of experience, our technicians undergo advanced training in order to remain up-to-date on all of the latest products, equipment, and cleaning methods of the industry to continue providing quality services. Ultimately, your worries can finally be put at rest, knowing you won't have to hire multiple companies for the cleanup job; we handle it all.
Our reconstruction services will provide all of the following services:
Design and consultation
Painting and staining
Obtaining all required licenses and permits
Carpet and flooring
Full restoration services
Architectural blueprints and reports
Plumbing and electrical work
Wallpapering and smoke sealing
Painting and staining
Available 24/7
If you have experienced a large loss on your property due to a natural disaster, do not hesitate to contact emergency services. ServiceMaster Restoration by Century is available 24/7 at (512)765-9630 to provide effective reconstruction services in Round Rock, TX and the surrounding areas.
Related Services
Reconstruction Services in Austin, TX
Reconstruction in Magnolia, TX
Reconstruction and Restoration in Pearland, TX
Reconstruction Professionals in San Antonio, TX
Emergency Construction Services in Georgetown, TX
---
Recent Reviews
Review by

A.D.
Rating

"Your attention to detail. Appreciate your customer service and promptness in getting someone out to my home."
---
Review by

B.T.C.T.
Rating

"PROFESSIONAL, COURTEOUS, QUICK, NEAT AND KEPT US INFOR. WE WERE MED AS TO ALL ASPECTS OF THE PROJECTVERY SATISFIED."
---
Review by

J.J.
Rating

"Incredibly fast response!"