Best Option Restoration
Frozen pipes are a major problem within homes and buildings as pipes that are frozen are likely to burst and result in serious water damage.  A significant amount of water can spill out of a burst pipe very quickly and the water will penetrate porous building materials and furnishings.  If the water is not removed right away, it can cause structural damage and mold growth.  It is very important to call for professional help immediately after a pipe bursts.
Best Option Restoration provides water damage restoration services in Rock Hill, SC to remove water and moisture and restore the damage caused by a burst pipe.  We arrive quickly after your call to contain the damage and dry and restore the affected areas.
How do Pipes Burst?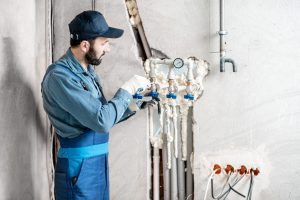 A pipe can burst if it is worn out or improperly installed, but bursts are more commonly caused by frozen pipes.  When the temperatures are below freezing, the water in your pipes is at risk of freezing.  As the ice within the pipe expands, the pressure becomes too much and causes the pipe to burst.  A burst pipe can spill hundreds of gallons of water if given enough time which can cause problems like structural damage and mold growth.
When a pipe bursts, you need to shut off the water supply within your home right away and call our professionals for water damage restoration.
Water Damage Restoration After a Burst Pipe
Excess water can quickly spread through a home or building and as it penetrates porous materials like the walls and flooring, it increases the risk of serious structural damage as well as mold growth.  Building materials and furnishings that absorb water can become discolored, warped, corroded, or rotted.  For materials like drywall and wood, this can lead to serious structural damage.  Moisture resulting from the water damage also triggers mold formation and growth in the home which will increase the damage.
Our technicians at Best Option Restoration have the skills and equipment to repair all the damage caused by water from a burst pipe.  We start the process by extracting the excess water and moisture and thoroughly drying the affected areas and materials using commercial grade water extraction equipment and dehumidifiers.  Our antimicrobial applications will help prevent mold as well.
Make sure that you contact Best Option Restoration if you discover any water damage due to a frozen or burst pipe in your home or business in Rock Hill, SC.  Our technicians provide the best quality restoration possible to repair the damage.  You can reach us at (980) 888-8456 , 24 hours a day for burst pipe restoration.
---
Recent Reviews
---
Review by Amir Young
Cleaning
Rating

"Positive: Professionalism, Punctuality, Quality, Responsiveness Great company. Jim, Jason, and Seth went above and beyond to help us resolve our water damage issues. They were patient, understanding, and proactive. Thanks team! Service: Water damage cleanup"
---
Review by Sarah Won
Cleaning
Rating

"Positive: Professionalism, Quality, Responsiveness, Value The team was absolutely great to work with! They did an excellent job and even went out of their way to help us find other people that we needed to contract that didn't fall under their scope. Would highly recommend Services: Mould inspection, Mould removal"
---
Review by Merideth Stewart
Cleaning
Rating

"Services: Mould inspection, Plumbing, Water damage cleanup Positive: Professionalism, Punctuality, Quality, Responsiveness"
---
See All Reviews