Best Option Restoration


If your home or building is affected by excess water, immediate action is required to remove the water and start the drying process.  Any amount of water indoors is dangerous because it can eventually cause serious damage by getting absorbed in porous building materials and spreading throughout the property.  If furnishings and building materials like wood and drywall absorb excess water, they can become discolored, corroded, weakened, and highly vulnerable to mold growth.  For building materials like wood and drywall, too much water can cause structural damage.
Best Option Restoration provides structural drying and dehumidification services in Rock Hill, SC to thoroughly dry homes and buildings affected by water damage.  Our technicians use advanced water extraction and drying equipment to ensure that all water and moisture is removed from affected materials.  Using our dehumidification equipment, we can extract moisture that has been absorbed by structural materials and furnishings.
Professional Dehumidification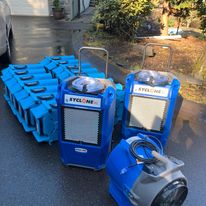 When water damage occurs, it is important to address it immediately.  Water damage will only increase with time as the water will continuously spread and cause further damage to the materials it affects.  Reacting quickly to the water damage will keep it contained and prevent more serious issues like structural damage and mold.
Our technicians understand the urgency of stopping water damage and we will arrive promptly at your property to contain the water.  We will then evaluate the extent of the water damage and use targeted extraction and dehumidification methods to extract the moisture and dry affected areas and materials.
Our structural drying and dehumidification process includes the following steps:
Moisture detection: Our technicians will first evaluate the spread of the water and how deeply the water has been absorbed. We may use moisture detection meters to get an accurate measurement of the spread of the water.
Water extraction: We will remove excess water, including standing water, with our water extraction equipment. It is important for excess water to be removed a certain amount at a time because removing all of it too fast can cause additional damage to structural materials.
Dehumidification: Our dehumidification equipment will be set up strategically to extract the remaining moisture out of affected materials including carpeting and flooring, drywall, wood, ceilings, and other structural elements.
Contact Best Option Restoration 24/7 for Structural Drying
If your property is affected by water damage, having the affected areas and materials dried and restored is important.  Our IICRC certified professionals at Best Option Restoration are trained and equipped to provide complete structural drying and dehumidification services in Rock Hill, SC.  You can reach us at (704) 603-6223 for emergency services.
---
Other Structural Drying and Dehumidification Services:
Reliable Structural Drying Company in Fort Mill and Indian Land, SC 
---
Recent Reviews
---
Review by Amir Young
Cleaning
Rating

"Positive: Professionalism, Punctuality, Quality, Responsiveness Great company. Jim, Jason, and Seth went above and beyond to help us resolve our water damage issues. They were patient, understanding, and proactive. Thanks team! Service: Water damage cleanup"
---
Review by Sarah Won
Cleaning
Rating

"Positive: Professionalism, Quality, Responsiveness, Value The team was absolutely great to work with! They did an excellent job and even went out of their way to help us find other people that we needed to contract that didn't fall under their scope. Would highly recommend Services: Mould inspection, Mould removal"
---
Review by Merideth Stewart
Cleaning
Rating

"Services: Mould inspection, Plumbing, Water damage cleanup Positive: Professionalism, Punctuality, Quality, Responsiveness"
---
See All Reviews