The Ponte Vedra Beach, FL area experiences moisture in the form of rain, storms, and humidity which makes homes and businesses vulnerable to water damage. Water damage is commonly caused by rain or flooding, but you may also experience water damage from a pipe burst, leak, or overflow. Any amount of water damage can turn into a serious situation because water spreads through absorbent building materials which increases the risk of structural damage and mold growth. RestorationMaster provides water damage restoration services in Ponte Vedra Beach, FL as well as Jacksonville Beach, Neptune Beach, and Atlantic Beach to remove excess water from homes and businesses. Our water extraction equipment helps us remove all water and moisture and we will also clean and restore the affected areas.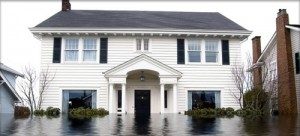 Water spreads so quickly in a home and has the potential to cause considerable damage because many building materials including wood, drywall, flooring, and insulation are porous. As water spreads through a home or building, it can cause serious structural damage by weakening these materials and it also creates an environment favorable for mold growth. The appearance of mold makes the situation more complicated and dangerous because the mold can speed up structural damage and cause negative health effects. Our technicians are prepared to remove excess water with our water extraction equipment and we will make sure the affected area is dry with strategically placed dehumidifiers. Efficient drying helps prevent mold growth as well as further structural damage.
The water damage restoration services we provide include the following:
Total assessment of the damage
Extraction of standing water
Anti-microbial application
Drying: air movement
Drying: dehumidifying
Drying: monitoring
Flood Damage Restoration
With the amount of rain and humidity in the Ponte Vedra Beach, FL area, there is always a risk for flooding. This risk is even higher if the area is hit by a tropical storm or hurricane that brings heavy rain. If you do experience flooding in your home or building, it is crucial to take immediate action because flood water penetrates building materials very quickly and has the potential to cause devastating structural damage. Indoor flooding is also a danger to your health because flood water may consist of sewage and microorganisms known to cause health issues.
While many instances of indoor flooding are the result of natural causes, flooding can also happen if there is a serious leak, pipe burst, or overflow. In all cases of indoor flooding, make sure you call RestorationMaster to remove the water and clean up the flood damage. Our technicians will immediately begin the drying process once the water is removed to extract excess moisture from the affected materials. We will then fully clean and disinfect the area to remove harmful microorganisms and prevent mold growth.
Water Damage Restoration Process
If your home or business has experienced water damage, you can count on the technicians of RestorationMaster to remove the water and restore the affected area to its original condition. Our complete water damage restoration procedure includes the following steps:
Evaluation of the building to assess the damage and safety
Location and repair of the source of the water or flooding
Containment of the water to avoid further damage
Extraction of all standing water and moisture
Strategic drying to extract moisture from wet structural materials and furnishings
Restoration and cleaning of the affected areas
Once you notice water damage in your home or business in Ponte Vedra Beach, FL, call RestorationMaster right away to limit the damage and begin the restoration. Giving the water more time to spread will only lead to more serious structural damage and increase your risk for mold growth. You can reach us 24 hours a day at (904) 559-3223 for emergency restoration services in Ponte Vedra Beach, FL as well as Jacksonville Beach, Neptune Beach, and Atlantic Beach.