(630) 576-0336
There are a number of things that can cause water damage. At times, natural calamities such as floods and storms can cause it, while at others damaged or improperly-installed plumbing can result in flooding. Regardless of the main reason for the problem, it's crucial that you act quickly and call water damage restoration experts to deal with it. The excess water should be removed without delay from your home or building.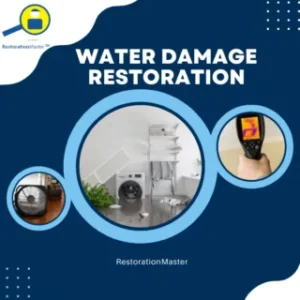 RestorationMaster can provide quick and efficient water damage restoration services for your property in Plainfield, IL.  Since we operate 24/7, you are assured of prompt services no matter what time of the day or night you contact us for help. We understand the urgency of the situation and send our personnel to your location without delay.
All traces of excess water will be removed using the best equipment and water extraction techniques. Our technicians work in a diligent manner to complete the work efficiently. In addition, we take some preventive measures that deter the growth of mold, which is a very common problem on properties that have sustained water damage.
It doesn't take long for water to spread to different areas of your home or building and damage the different features and elements. The damage occurs quickly because many modern construction materials are highly porous in nature. The water seeps into these materials and causes them to become damaged and structurally weak. This makes it imperative to address water damage issues without delay. We are the experts that use advanced dehumidifying and drying equipment to ensure your building or home is restored to its original condition.
Water Damage Restoration – The Steps we Follow
A detailed assessment will be carried out.
The latest equipment will be used to extract all the excess water.
An antimicrobial solution will be applied to the affected spots – this hinders the spread of pathogens.
Commercial, heavy-duty movers are used to dry the spaces.
The moisture will be removed with the use of dehumidifiers.
Our technicians will also monitor your property and make sure that all the moisture is removed from the indoor spaces.
We provide prompt and efficient 24/7 water damage restoration services in Plainfield, IL. We have a very fast response time and our technicians will be at your property shortly after you contact us.  Call us any time at (630) 576-0336 for emergency water damage restoration.