You should always be prepared for what to do if a serious injury or death occurs on your property because these situations require immediate action.  An injury or death may occur suddenly as a result of a violent crime or accident and if there are biohazard materials at the scene like blood and bodily fluids, they must be removed by a professional to prevent serious health effects.  Law enforcement and EMTs must be called to the scene immediately, but these officials are not equipped to handle the cleanup of biohazard materials.  RestorationMaster provides biohazard and trauma scene cleaning services in Plainfield, IL to effectively remove biohazard materials and disinfect the scene of a violent crime or accident involving an injury or death.  We have the proper cleaning products and equipment to remove all types of biohazard materials and minimize the risk of disease or infection.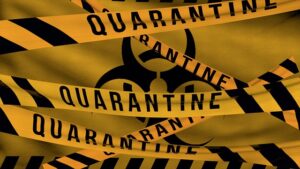 The scene of a serious accident or violent crime is dangerous because they usually contain blood and bodily fluids that are potentially infectious.  You must treat all biohazard materials with caution because they could have harmful viruses or bacteria that can spread infection or disease.  Biohazard materials can only be removed by a trained professional because improper cleaning methods will make the spread of infection or disease much more likely.  Each of our technicians has been highly trained to remove all types of biohazard materials and we use personal protective equipment (PPE) and powerful cleaning products to do it safely.  Once the biohazard materials are removed, we disinfect the entire scene so it can be used safely without the risk of negative health effects.  Our technicians have also been trained to work in cooperation with law enforcement officials to help aid the crime scene investigation.
Our trauma and biohazard cleaning services include the following:
Thorough cleanup of all biohazard materials
Complete cleaning and sanitization of the scene to reduce health risks
Proper transport of biohazard materials for disposal at a licensed medical waste facility
Our work meets the standards of local, state, and federal health regulations
Sometimes these situations can result in a loss which makes the entire experience more difficult for surviving friends and family members.  Our technicians are committed to providing emotional support to help those who are grieving a loss and we always work with a sense of compassion and respect.  We also help protect your privacy by arriving in unmarked vehicles and working quickly and discreetly to get the job done as soon as possible.
It is not easy to deal with the aftermath of a violent crime or serious accident and the scene can be very dangerous.  If you encounter a scene involving a serious injury or death on your property in Plainfield, IL, do not hesitate to call 911 and RestorationMaster for trauma scene cleaning.  We are ready to respond to emergencies 24 hours a day at (630) 576-0336.