(630) 576-0336
Fire is a very powerful force and if it erupts in your home or commercial establishment, it can end up causing a lot of damage. What many people aren't aware of is that fire causes damage long after it's been completely extinguished. This makes it crucial to start the restoration process as soon as the structure is declared safe by the fire department.
Different byproducts of the fire, including soot and smoke tend to etch and tarnish features such as drywall, floors, furniture and flooring.  Aside from that, they can also permanently ruin various other surfaces and upholstery fibers. When you act quickly and address the problem without wasting any time, it's easier to prevent the corrosion from these byproducts and restore the features on your property.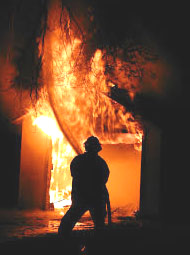 We at RestorationMaster provide quick and professional fire damage restoration services to both commercial and residential customers in Plainfield, IL. The advanced and effective techniques and equipment that we use remove all the soot and smoke traces from the indoor areas of your home or building. Some synthetic materials like rubber and plastic emit a very foul odor when they get charred in a fire and this smell can lingers indoors for several days after the fire. We use special deodorizers and commercial air movers to clear, clean, and freshen the air in the indoor spaces.
Fire Damage Restoration in Plainfield, IL
We have years of experience behind us and our IICRC certified and well-trained technicians work efficiently to tackle even the most complicated fire damage restoration jobs in Plainfield, IL in an expert manner. This helps contain and minimize the damage and saves you unnecessary expenditure as well.
Our Services
The technicians will quickly isolate all the burnt and affected spaces in your home or building and then clean the damage caused by the soot and smoke. High-grade cleaners are used to remove the effects of these byproducts. The complete fire damage restoration services we provide include:
Pre-cleaning the property
Content cleaning to remove smoke and soot traces from all personal belongings
In case the space has been declared unstable, the items will be moved to our facility for cleaning and restoration
Odor removal
Cleaning of walls and ceilings
For expert fire damage restoration services in Plainfield, IL call RestorationMaster at (630) 576-0336.  A quick response will help limit the damage which will save you time and money on the restoration process.