We can't avoid the reality that violent crimes and accidents happen and there is always a chance that you could encounter such a scene on your own property. It is crucial for you to know what steps to take if you encounter a trauma scene because taking the wrong actions could be detrimental to your health and safety. These scenes often contain biohazard materials like blood that can be very dangerous if handled improperly. Your first move should be to call 911 for emergency response and then call a professional that is licensed to remove biohazard materials. ServiceMaster of Aurora provides trauma scene cleaning services to remove biohazard materials from crime and trauma scenes in Naperville, IL and fully disinfect the scene. Our technicians are trained to safely remove dangerous biohazard materials and we also make sure to take a compassionate approach for those who are grieving a loss.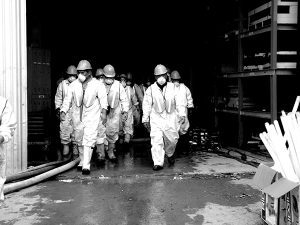 Biohazard materials like blood and bodily fluids are almost always found at the scene of a serious injury or death and coming into contact with these materials can be very dangerous. They could harbor viruses, bacteria, and other pathogens that cause disease or infection. Biohazard materials should only be cleaned up by licensed professionals to avoid exposure. At ServiceMaster of Aurora, we can remove all types of biohazard materials with our advanced equipment and we use powerful cleaning products to ensure that everything has been removed and the scene can be used again safely. Our personal protective equipment (PPE) keeps our technicians safe from exposure and we make sure that the biohazard materials are transported for disposal to a licensed medical waste facility.
You can expect the following actions with our trauma scene cleaning services:
Complete removal of biohazard materials
Total cleaning of the scene and disinfection to eliminate health risks
Proper transport and disposal of biohazard materials at a licensed medical waste facility
We work within health regulations at the local, state, and federal level
Enduring the loss of a loved one to a violent crime or accident is very difficult emotionally and our technicians are aware of the impact this can have on our clients. We approach those grieving a loss with compassion and respect to help them get through the restoration process as quickly and easily as possible. Our technicians are committed to returning the affected area to its original state and we arrive in unmarked vehicles to protect your privacy. If the scene is also a crime scene, we can work with law enforcement officials to make sure the crime scene investigation goes smoothly.
The aftermath of a serious injury or death is as dangerous as it is overwhelming and it is best to stay clear of the scene and call for help immediately. After calling the proper authorities, call ServiceMaster of Aurora right away to have our professionals effectively restore the scene with our biohazard and trauma scene cleaning services. We are available 24 hours a day at (630) 352-0753 to provide emergency services in Naperville, IL.