630-352-0753
When a natural disaster like a storm or fire occurs, there is always a chance that you could sustain serious property damage. If the damage affects the structural core of your home or building, you must have it stabilized immediately or you could be facing an even bigger disaster. Buildings with a compromised structural core are at risk of collapsing if they are not stabilized, and the building could sustain even further damage from water and vandals entering through holes created by the disaster. ServiceMaster of Aurora provides emergency board up services to help stabilize and secure homes and buildings in Naperville, IL that were heavily damaged in a disaster. We will make sure your home or building is protected from further damage while you arrange for the reconstruction.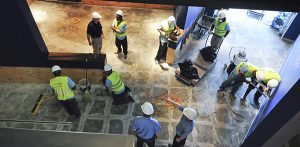 Discovering such severe damage to your home or office can be very overwhelming and you may not know where to begin. A severe storm, fire, or flood can quickly cause serious structural damage and create openings on the exterior of the building by damaging siding and windows. Any openings created by the disaster leave your home or building open to damage from the rain and wind as well as intruders such as animals and vandals. We will respond quickly to your call to board up your building and make sure it is secured from further structural damage and outside threats like vandalism and weather conditions.
You can expect the following from our board up services:
Tarping of damaged roofs
Board up of openings and holes
Temporary enclosures
Barricades if needed
If a major disaster has resulted in serious damage to your home or building in Naperville, IL, make sure you call ServiceMaster of Aurora as soon as possible to board up and secure the building. Our technicians can effectively stabilize intense structural damage and we will make sure all openings on the exterior of the building are covered to keep it secured. Give us a call any time 24 hours a day at (630) 352-0753 for emergency assistance.