House Cleaning Services – RestorationMaster
Everyone wants a clean home but it takes time and effort to clean every area of your home thoroughly.  If you have a demanding work schedule or find yourself out of the house a lot taking your kids to practices or lessons, it is very difficult to find the time to adequately clean your house.  RestorationMaster provides customized home cleaning services in Naperville, IL to vacuum, dust, and wash every room of your home.  Our cleaning professionals use specially formulated cleaning products and equipment to clean your entire home from top to bottom.
Our home cleaning services can be customized to fit your exact specifications.  Let our cleaning professionals know which areas of the house you want to have cleaned and if you have any specific requests for a certain area.  We are committed to providing thorough and effective house cleaning services for the following:
Living Room/ Bedrooms Cleaning
We will remove cobwebs and dust everything in the room including light fixtures, ceiling fans, furniture, shelves, picture frames, and other knickknacks.
Your carpet will be vacuumed and we will also wash hard surface flooring.
We will thoroughly vacuum your furniture and empty trash cans.
Kitchen Cleaning
The kitchen requires thorough cleaning to ensure that it is sanitary for food preparation.  Our kitchen cleaning services include the following:
Cleaning of kitchen appliances, cabinets, and other furniture such as tables and chairs
Thorough cleaning and sanitization of sinks, countertops, and backsplashes
Cleaning of stovetops and refrigerator exteriors
Inside out cleaning for microwaves and ovens
Mopping/ washing of the floors
Bathroom Cleaning
The bathroom also requires consistent cleaning and is usually the least favorite area of the home to clean.  Our cleaning professionals will do the following for your bathroom:
Thoroughly clean and sanitize the sink, bathtub, and shower
Clean and sanitize your toilet as well as vanities and backsplashes
Clean the mirrors and polish chrome fixtures
Wash tile flooring and walls
Deodorize the space
Additional House Cleaning Services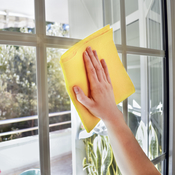 Our house cleaning professionals will tackle a variety of time consuming tasks so you don't have to.  Our additional house cleaning services include:
Cleaning of the oven and refrigerator
Window washing
Cabinet cleaning
Wall washing
Packing and unpacking
Furniture cleaning
Basement cleaning
Post-construction cleaning
Each of our cleaning professionals is bonded and insured to provide effective housekeeping services by combining our proven cleaning methods with your custom specifications.  You can rest assured that we will arrive on time and provide quality results.  You can hire us to clean your home as a one-time service or schedule weekly, bi-weekly, or monthly services to keep your home consistently cleaned.
If you want to come home to a house that has been treated by cleaning professionals, contact RestorationMaster for our home cleaning services in Naperville, IL.  You can reach us at 630-352-0753 to schedule an appointment.