There are many people within the United States that struggle with hoarding issues and the family and friends of those that hoard must face the difficult task of cleaning out their homes. Hoarding disorders are defined by the extreme collection of any objects including personal items, animals, and even trash. As the hoard within a home grows, it can create a very dangerous situation as odors, dust, and mold may accumulate within the mess of a hoard that could pose potential health threats. RestorationMaster provides hoarder cleanup services to Memphis, TN and the surrounding communities to clear large hoards from a home.
Hoarding Cleanup Services from RestorationMaster
RestorationMaster approaches each hoarder cleanup project with care and compassion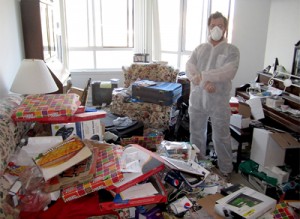 because the person involved usually has an attachment to their objects. Our technicians have the training and certification to provide effective hoarder clean up services that include removing the clutter and cleaning, sanitizing, and deodorizing the home. We are also certified to remove biohazard materials such as bodily fluids or decomposing animals.
Each of our technicians is licensed, bonded, insured, and certified to provide hoarder cleanup services and we work in compliance with OSHA, the Department of Transportation, and the EPA rules and regulations. Our hoarder cleanup process includes:
Decontamination: Complete removal of biohazard materials including blood, bodily fluids, and decomposing animals.
Deodorization: Removal of foul odors with powerful deodorizers.
Proper Disposal: Proper storage and transportation of all biohazard materials to a facility that provides safe disposal. We will save precious personal items such as photographs and other important keepsakes.
If you have a loved one or family member that suffers from hoarding in Memphis or the surrounding areas, contact RestorationMaster for our hoarder cleanup services. Our franchise is the only one in Memphis that is completing a national expert class in hoarder and estate clean up. We can be reached any time at (901) 410-4664.