ServiceMaster by Restoration Contractors
The idea of a fire and damage to your home can be a scary thought, but it happens to thousands of property owners every year. Even after the flames have been put out, additional damage from the spread of smoke and soot byproducts as well as water from firehoses will be quick to ruin the remaining materials, unless emergency treatment occurs right away.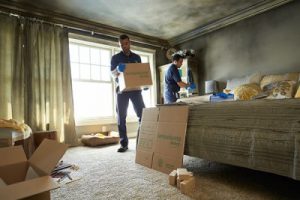 ServiceMaster by Restoration Contractors provides emergency fire damage restoration in the Marion, IN area for both home and business owners. We are available 24/7 and will arrive in a timely manner to return all affected materials to their original conditions.
Fire Damage Restoration in Marion, IN
When a fire occurs, the flames may be extinguished before they can spread too far, but the smoke and soot created in the process can cause additional damage for days afterward. Even during the fire, the smoke and soot can burn, a process known as chemical burning, pitting, or etching. When these byproducts come into contact with building materials, they will cover them in a thick, oily residue that can ruin them unless they are treated immediately.
The property will also be filled with a potent smoke odor that will require professional hydroxyl and ozone technology in order to be fully removed. Finally, personal contents can become damaged in the process, facing the risk of loss until they are treated with professional cleaning agents.
Smoke Mitigation in Marion, IN

Soon after calling ServiceMaster by Restoration Contractors, we will arrive right away with all professional products and equipment needed to start the restoration process. We will first conduct an initial inspection in order to develop the best plan for restoring the affected surfaces.
Our technicians proceed to conduct the necessary demolition of permanently damaged materials while removing all other debris from the property. We will then clean the oily, thick residue from the affected surfaces, restoring them to their original conditions. Finally, the entire property will be deodorized, removing that strong smoke odor to restore healthy breathing air. After all necessary repairs have been made, we can work with your insurance company during the claims process so you don't have to coordinate between both companies.
Smoke Mitigation – What to Do:
Call ServiceMaster by Restoration Contractors for emergency fire and smoke damage restoration services.
Wipe off all aluminum, chrome, Formica, and porcelain materials to remove the soot residue.
Cover all supply and return air vents with 2 layers of cheesecloth.
Dispose of all food that was exposed during the fire.
Wipe off all plant leaves.
Change the filter on the HVAC system.
Deliver smoke-damaged clothing needed for immediate use to a restoration dry cleaners
Fire Damage Cleanup – What NOT to Do:
Do not touch the affected surfaces with bare hands.
Do not try to clean the smoke and soot residue yourself. Home cleaning agents will only smear in the byproducts even further.
Do not clean any furnishings or upholstery yourself.
Do not turn on the electricity until it has been cleared by a technician.
Free Estimate Fire Restoration in Marion, IN
Dealing with fire damage is never easy, especially when it has left your home or building in a critical condition. But with professional restoration and cleaning, our technicians can restore a clean and healthy environment. Don't hesitate to give us a call in the event of a fire or smoke damage emergency.
ServiceMaster by Restoration Contractors is available 24/7 at (260) 980-9662 in the Marion, IN area to provide emergency fire and smoke damage restoration services. We work with insurance companies.
---
Related Fire Damage Restoration Services:
Fire damage restoration in Fort Wayne, IN
Fire damage restoration in Auburn, IN