ServiceMaster DAK
Serving Barrington, Lake County, part of Cook County, IL and the surrounding areas, available 24/7/365
Just because construction has been completed on a project, that doesn't mean the area is ready to be used. The site will need to be cleared of sawdust, nails, screws, and other construction debris. It will also need a thorough cleaning to remove mud, paint chips, and other dirt before it's ready to be enjoyed. It's difficult to do this kind of cleaning on your own, and impossible to do with commercially available equipment, which is designed for lighter-duty cleaning.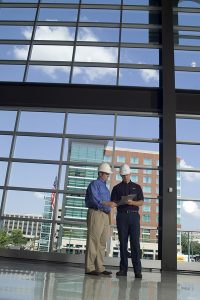 ServiceMaster DAK provides high quality post-construction cleaning services to homes and businesses in Lake Zurich, IL. Our technicians remove all traces of dirt, grime, dust, and construction debris so you can enjoy your new space without worrying about stepping on nails or encountering sawdust in nooks and crannies for months afterwards. We have years of experience cleaning up after construction projects, so we clean and restore places you might not think to check.
ServiceMaster DAK's full service post-construction cleaning services include:
Cleaning lights
Damp mopping floors
Damp cleaning bathroom fixtures
Dusting air diffusers
Spot cleaning walls
Spot cleaning interior glass
Vacuuming and spot treating carpets
Machine scrubbing floors
We work in coordination with the construction crew to accommodate any schedule changes that may affect the completion date. We use only the most effective, yet gentle products to remove dust and grime so your finished construction project looks as beautiful as it did in the initial planning phase. We work with you to ensure that the project is finished on time and on budget. Call us at (847) 558-6604 for the best post-construction cleaning services in Lake Zurich, IL.
---
Recent Reviews
January 7, 2020
Very thorough clean up! The men were very professional and competent! They arrived on time for 5 days and were very pleasant and respectful of my home always wearing "booties" when entering. The room was left immaculate and debris removed in plastic bags day 1. The fans were checked daily until the room was dry. Very good service! Recommending Brian Brown and Gabriel who did a great job!
---