ServiceMaster DAK
Serving Barrington, Lake County, part of Cook County, IL and the surrounding areas, available 24/7/365
Most people don't give the ductwork in their homes a second thought, but it's an important component for keeping the building at a comfortable temperature. Air that's heated by the HVAC system moves through the ductwork and out through registers in each room. When the ductwork is clogged with accumulated dust, pollen, mold spores, or other debris, the motor in the HVAC system has to work harder to move the air. This shortens the lifespan of the system and leads to breakdowns and higher utility bills. As the system blows air into the rooms, it also distributes anything that's in the ductwork into the rooms, spreading dust and allergens through the building.
Commercial and Residential HVAC and Air Duct Cleaning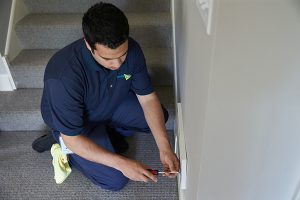 The technicians at ServiceMaster DAK offer high quality air duct cleaning services in Lake Zurich, IL to keep the air ducts free from contaminants and maintain the performance of your HVAC system. Most homes should have their ductwork cleaned every 3-5 years, but some situations may call for more frequent cleanings, including:
Recent water damage, to remove traces of mold;
Home improvement projects, to clean any sawdust or other construction debris;
Pet dander from animals that shed frequently;
People in the home with allergies or asthma.
We schedule cleanings at times when most people will be out of your home, because duct cleaning can be a noisy process. All situations are different, but in most cases, we can complete the job to your satisfaction within 3-5 hours.
ServiceMaster DAK's full service air duct cleaning includes cleaning:
Supply and return air ducts/registers;
Heat exchangers;
Grilles and diffusers;
Heating and cooling coils;
Drip pans;
Fan motor/housing;
Air-handling unit housing.
Our highly trained professionals attach a powerful vacuum system to the air duct near the furnace which is used to dislodge even the most stubborn dust and debris from the ductwork. All contaminants are then pulled through the ductwork and filtration system, bringing clean air into the home. Afterwards, all access holes are resealed so the duct system is like new again.
Maintaining the HVAC and ductwork in your home may not be at the top of your "To Do" list, but by making it a priority, you may find noticeable changes in your utility bills and the health of the people in your home. You'll definitely notice a difference in the amount of dust being blown around. ServiceMaster DAK will help you schedule a time that works best for you and your family in Lake Zurich, IL. We'll ensure your complete satisfaction with our work and give you advice on maintaining your ductwork until the next scheduled cleaning. Call us at (847) 558-6604 for high quality air duct cleaning.
---
Commercial and Residential Air Duct Cleaning Services – Lake Zurich, Lake county and other IL locations:
Arlington Heights IL 60004 | Barrington IL | Buffalo Grove IL | Lake Zurich IL
---
Recent Reviews
January 7, 2020
Very thorough clean up! The men were very professional and competent! They arrived on time for 5 days and were very pleasant and respectful of my home always wearing "booties" when entering. The room was left immaculate and debris removed in plastic bags day 1. The fans were checked daily until the room was dry. Very good service! Recommending Brian Brown and Gabriel who did a great job!
---