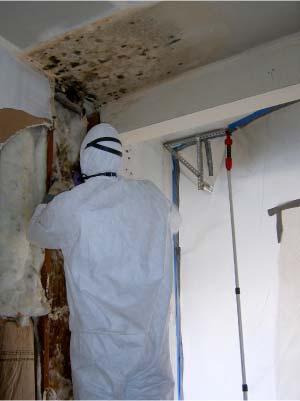 Mold and mildew can cause serious damage to your home and its value. Water damage and excess moisture can cause mold to grow anywhere within your home. Since mold spores travel so easily through the air, they can attach and start to grow on almost any surface.
Turn to ServiceMaster of Glenview Golf to make sure your entire mold and mildew remediation needs are met. Fast response to a problem like mold will ensure you, your family and home will stay safe and clean in the long run.
Mold and Mildew Cleanup
Here at ServiceMaster of Glenview Golf, we know that fast reaction time to any damage will save you time and money in the long run. This is especially important when it comes to mold. Since mold and mildew can start to grow within 48 hours of water contact, ServiceMaster of Glenview Golf can be onsite within a couple hours of your initial call. We are available to talk 24/7 so you can be prepared to act fast, no matter if it's night or weekends, emergencies can happen at any time.
Our highly experienced team utilizing our inventory of specialized remediation equipment can undertake and successfully complete projects of any magnitude. Our emergency response team can will reduce your losses and save you money.
Call ServiceMaster of Glenview Golf at (847) 983-7400 for all your mold remediation and mildew cleanup needs.
ServiceMaster DAK Mold Remediation service areas:
---
Recent Reviews
January 7, 2020
Very thorough clean up! The men were very professional and competent! They arrived on time for 5 days and were very pleasant and respectful of my home always wearing "booties" when entering. The room was left immaculate and debris removed in plastic bags day 1. The fans were checked daily until the room was dry. Very good service! Recommending Brian Brown and Gabriel who did a great job!
---