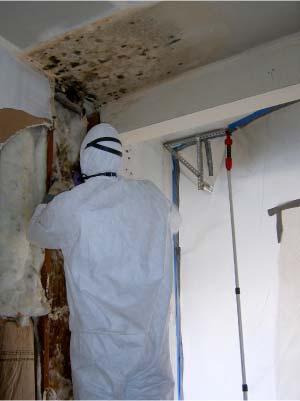 Mold and mildew can cause serious damage to your home and its value.  Water damage and excess moisture can cause mold to grow anywhere within your home. Since mold spores travel so easily through the air, they can attach and start to grow on almost any surface.
Turn to NuEra Restoration and Remodeling of Glenview Golf to make sure your entire mold and mildew remediation needs are met.  Fast response to a problem like mold will ensure you, your family and home will stay safe and clean in the long run.
Mold and Mildew Cleanup
Here at NuEra Restoration and Remodeling of Glenview Golf, we know that fast reaction time to any damage will save you time and money in the long run.  This is especially important when it comes to mold.  Since mold and mildew can start to grow within 48 hours of water contact, NuEra Restoration and Remodeling of Glenview Golf can be onsite within a couple hours of your initial call.  We are available to talk 24/7 so you can be prepared to act fast, no matter if it's night or weekends, emergencies can happen at any time.
Our highly experienced team utilizing our inventory of specialized remediation equipment can undertake and successfully complete projects of any magnitude. Our emergency response team can will reduce your losses and save you money.
Call NuEra Restoration and Remodeling of Glenview Golf at (847) 813-7730 for all your mold remediation and mildew cleanup needs.
NuEra Restoration and Remodeling Mold Remediation service areas:
---
Recent Reviews
Review by Kiara Robinson
Rating

"Professionalism, Punctuality, Quality, Responsiveness, Value Clint and his team were AWESOME!!! He was very considerate of my time and space. I was very frustrated when he arrived & when he left I felt happy and relieved that my issue was resolved! He made sure to clean everything with non-toxic chemicals so that my kids would be safe, he explained everything he was doing and executed it perfectly. I had a leak in my ceiling and sewage water everywhere. He put in the time and hard work to disinfect, clean, and dry everything throughly. He was quick, efficient, and respectful! I would definitely recommend his services to anyone who has an issue in their space. Thank you Clint."
---
Review by Sara Ofenloch
Rating

"Our technician Alec came in and re-padded the carpet that had been torn up last week due to water damage. He was so friendly and talkative, and worked very quickly to get the job done! In and out within 30 minutes so that I could get on with my day. Would definitely recommend. Thanks Alec!"
---
Review by Saima I
Rating

"After our apartment flooded on Chirstmas Eve, we were worried about dry wall repairs and patches, and disgusted by the stench. NuEra handled our dry wall replacement and patching and our carpets. We didn't get a business card from the man who worked on our walls and ceilings, but he did so without his partner that day. We are so grateful! After the drywall repairs, our carpets were cleaned so thoroughly and efficiently. Alex treated the carpet and scrubbed it out well before applying the deodorizer and scrubbing that in. He even got out a bright yellow stain from the water that had leaked in. It's such a relief to no longer live in a stinky apartment! Alex and Nick were wonderful! Thank you so much!"
---
See All Reviews