Water damage is a tricky problem because it can be caused by a number of factors including flooding, plumbing issues, leaking pipes, and others and it can sometimes spread undetected. The porous building materials in a home or building cause the water to spread pretty quickly which is why it is important to start the water damage restoration process as soon as possible. RestorationMaster provides water damage restoration services to homes and businesses in Cleveland, OH to remove excess water and restore the damage it has caused. We have the training and expertise to effectively restore all damage caused by water and we are one of the few water damage service providers in the Cleveland area that also provides full reconstruction services.
Water Damage Restoration Services
The problems caused by water damage can include property damage, mold, bacteria corrosion, and electrical issues and our technicians use the best cleaning products and equipment of the industry including dehumidifiers, trailer mounted heat units, and other specialty drying equipment to remove the excess water or moisture and rebuild the damage. If the water or moisture is not completely removed, mold may start growing in the building which can lead to even more extensive damage.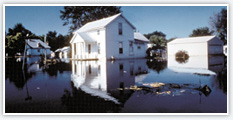 Each of our technicians is trained to recognize and react to water damage caused by flooding, plumbing failure, groundwater leaks, pipe bursts, and long-term humidity. You can expect the following from our water damage restoration services:
Quick response to water damage emergencies anytime 24 hours a day
The fastest drying equipment in the Cleveland area
Arrival at your home or office within 60 minutes or less from your initial call
Coordination of your insurance claims with your provider
Courteous technicians who will respect your property
Removal of contents and furniture to better dry the area
Content restoration including pack-out services
Water extraction using the most advanced equipment of the industry
Cleaning and disinfection of structural elements
Deodorization using antimicrobial treatments as well as Hydroxyl technology, thermal fogging, and air scrubbers
Complete drying using our specialty equipment
Complete reconstruction services if necessary
Final inspection to ensure that the job is done to the client's satisfaction
Water damage must be addressed once it is discovered to help limit the damage and RestorationMaster responds quickly to water damage emergencies in the Cleveland, OH area and we can typically complete the job in 3 to 4 days. We are trusted by local insurance providers and dedicated to not only removing the water and moisture, but also rebuilding your home if necessary. We can be reached 24 hours a day at (440) 799-6661 to respond to water damage emergencies in Cleveland, OH.