ServiceMaster Quality Restoration
When a natural disaster occurs, the damage is usually a mess that is difficult to contain.  Storms, floods, fires, and mold each have the potential to cause very serious damage, and much of this damage extends beyond the structural elements of your home to our personal belongings.  Finding widespread damage to your personal items can make dealing with a disaster even more frustrating, and many of your more delicate items are at risk for permanent damage, unless they are quickly restored.
At ServiceMaster Quality Restoration, we provide content cleaning and restoration services in Charlotte, NC to help clean and restore your damaged personal belongings after a disaster.  We offer content cleaning as part of all our disaster restoration services, and we can provide pack-out services to restore your items at our facility if your home is in a dangerous or unstable condition.
Content Cleaning and Restoration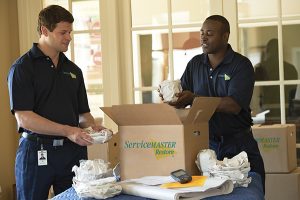 Most homes are filled with personal items that are vulnerable to severe damage when a disaster occurs.  Items from clothing and electronics to photos, jewelry, and other valuables need to be restored quickly after a fire to prevent them from becoming permanently damaged.  It is important to check your home for damaged items after a disaster so you can make sure they are cleaned and restored as soon as possible.  Our technicians use advanced cleaning techniques to clean and deodorize items that have been damaged by water, fire, mold, or smoke, and restore them to their original condition.
In most cases, we can fully clean and restore your damaged items right on your property.  However, if the home or building needs extensive restoration due to severe damage, we provide pack-out services to deliver your items to our facility to complete the cleaning and restoration.
Pack-Out Services
In cases where the home or building sustains heavy damage, it is best to do the content cleaning and restoration off-site.  We can take your damaged items to our facility with our pack-out services where they will be fully restored and kept in storage while the restoration takes place in your home or building.
Our pack-out services include the following steps:
We keep a full inventory by entering every item we pack into our electronic inventory system.
We provide a copy of the inventory to you and your insurance provider.
We take your content to our facility for cleaning and restoration and keep your items stored securely until you are ready to take them back.
When the restoration is complete on your home or building, we will deliver them back to you.
The aftermath of a natural disaster is already difficult to deal with and the situation is made even worse if your personal belongings are damaged as well.  ServiceMaster Quality Restoration is prepared to clean and restore a wide variety of personal items to prevent them from becoming permanently damaged.
Emergency Response
Make sure you contact ServiceMaster Quality Restoration at (704) 603-6223 for disaster restoration emergencies in Charlotte, NC and the surrounding areas.
Related Contents Restoration Services
Content Cleaning and Pack Out Services in Stallings, NC
---
Recent Reviews
September 16, 2019
Service Master responded extremely quickly when we had a devastating water leak which caused a deluge of water to erupt from the ceiling between the first and second floor and caused immense damage to the flooring and furniture throughout the house. Service Maser were there within an hour and immediately commenced removing all the water and getting dryers and dehumidifiers into the house to dry it out. Where the drywall was soaked it was removed and the house tested to ensure no contaminants remained. We are very grateful to Service Master for their quick response to our call for help.