918-932-1333
Hoarding has become a much more visible issue in our society as more has been learned about the disorder to better help those affected. Hoarding is a mental disorder with anxiety as the underlying cause of the most commonly associated behaviors. Those affected cannot part with anything in their homes, from newspapers and food containers to broken appliances and sometimes animals. The growing hoard creates hazardous living conditions by increasing the risk of injury, fire, and the appearance of mold or bacteria which can have drastic health effects. Someone who the hoarder can trust must help them realize that they need to have their home cleaned and restored for their health and safety.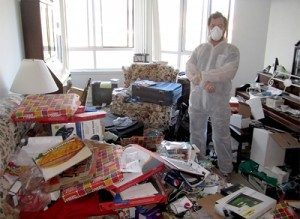 RestorationMaster provides hoarding cleanup in Broken Arrow, OK to help clean homes affected by hoarding and restore safe living conditions. We will remove all hoarded objects that are not wanted and thoroughly clean and sanitize the home using the best cleaning products and equipment available. Those who are affected by hoarding have a very difficult time throwing away anything which can make the cleaning process difficult to handle. We establish a personal relationship with the affected individual and make them an important participant in the cleaning process.
Hoarding Cleanup from RestorationMaster
Our technicians are trained and experienced to deal with any case of hoarding and we have the right equipment to disinfect and deodorize the home once we remove all unwanted objects. We also have the ability to safely clean up any biohazard materials we may find including mold growth, bacteria, and dead animals. Establishing a personal relationship with the affected individual based on trust is an important part of the process. This helps put them at ease about the cleaning and we also give the individual the final decision on what to do with hoarded objects so that they keep some element of control.
We make sure that our hoarding cleanup services are in compliance with the rules and regulations of OSHA, the EPA, and the Department of Transportation. You can expect the following from our hoarding cleaning services:
Decontamination: We make sure the entire home is decontaminated to restore safe and healthy living conditions.
Deodorization: We can completely remove any foul odors left behind.
Proper Disposal: Items removed from the home are either thrown away, recycled, or donated and we can take biohazard materials to a medical waste facility that is licensed for disposal.
Hoarding can lead to very dangerous living conditions in the home which is why it is so important to help a hoarder understand the danger and get their homes cleaned. Our technicians are ready to clean up even the most extreme cases of hoarding in Broken Arrow, OK and ensure that the home is cleaned and sanitized. You can call us 24 hours a day at (918) 932-1333 to talk to us about our hoarding cleanup services.