It's hard to keep excess water out of your home or business because it can come in so many different ways. Washing machines overflow, hot water heaters leak, pipes break inside walls, sewers back up into basements, flash floods overwhelm storm drains, roofs come off during storms – any of these can lead to an indoor deluge. Whether it's a small amount or enough to float the furniture, it's important to take action right away. Excess water won't evaporate on its own. Water continues to seep into building materials and furnishings the longer it stands, rotting fibers as it goes. Items that weren't originally damaged can be ruined over time by negligence. Even worse, mold growth begins in as little as 48 hours after a water leak.
Coventry Services provides water damage restoration services to residential and commercial customers in Annapolis, MD and surrounding areas to remove excess water, thoroughly dry the area, and restore any damaged items. Our staff is certified by the IICRC to offer water damage restoration, and we use only the most effective equipment and cleaning products available in the industry to refurbish your property.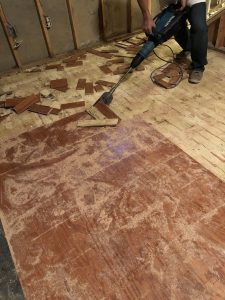 The Damage Caused by Excess Water
Even a seemingly small amount of water can cause a great deal of damage if it becomes absorbed by building materials like wood or drywall. As these items become damp, they become discolored, weakened, and can even collapse. Mold growth contributes to the destruction and collapse of building materials. Hesitating only makes things worse, so it's important to call Coventry Services immediately to mitigate the damage and begin the restoration process.
There are a few things you can do to limit the damage while waiting for our technicians to arrive:
If possible, turn off the source of the water. Shut off valves are usually located near the leaking appliance. You may need to turn off the water to your home from the street; if you don't know how to do that, call your water utility company.
Use a coat hanger to lift curtains off the floor. Try to clip upholstery skirts up too; you may have to use clothespins, binder clips, or whatever you can find.
Remove paintings, photos, and other valuables to a safe, dry location.
Place aluminum foil under furniture legs to protect them, and the carpet underneath.
Don't use a household vacuum cleaner to remove water; it's not designed for liquids, and the floodwater may contain contaminants.
A Trusted Name in Water Removal
The professionals at Coventry Services are IICRC certified to provide comprehensive water mitigation and use the most advanced water extraction equipment available to remove all traces of excess water from your home or business in Annapolis, MD. Our state of the art drying and dehumidification equipment removes extra moisture from porous furnishings and building materials, stopping damage in its tracks. Once everything is dry, we completely clean and restore the entire affected area.
Our water damage restoration services include:
An initial consultation to assess the situation;
Complete water extraction and drying;
Structural drying;
Demolition, if necessary;
Drying all affected content and furnishings;
Carpet and upholstery cleaning and restoration;
Excess water on your property is something you should never ignore, so if you find any signs of it at your home or commercial property in Annapolis, MD, call the highly trained experts at Coventry Services immediately. We're available 24 hours a day, 7 day a week at 443-971-3957 to provide emergency water damage restoration services.
---
Related Water Damage Restoration Services
Water Damage Restoration in Baltimore, MD
Water Damage Restoration in Ellicott City, MD
Water Damage Removal in Towson, MD
---
Recent Reviews