Fires cause many layers of damage within a home.  The flames char and destroy the building materials and objects they encounter, and they create corrosive byproducts that can continue to cause damage after the fire is out.  These corrosive byproducts include smoke, soot, and residue that will spread and settle on objects and materials, greatly increasing the amount of total damage.  Soot and smoke can also be a problem in your home without a fire as cooking, candles, and furnace puffbacks are common sources of these corrosive materials. Objects affected by smoke and soot can become discolored and burned and if they are not properly restored, the damage will become permanent.
Coventry Services provides complete smoke and soot damage restoration services in Annapolis, MD to clean up soot residue from fires, cooking, or furnace puffbacks.  We use advanced cleaning products that can effectively remove the effects of smoke and soot from a wide range of objects and materials, and we also provide deodorization to remove lingering smoke odors.
Smoke and Soot Damage
The smoke, soot, and other corrosive byproducts created by a fire usually cause more damage than the fire itself.  These byproducts tend to spread to areas that the fire did not reach and their acidic nature makes them very corrosive to all materials including common building materials and personal objects.  Affected materials will become quickly etched and tarnished and the damage will become permanent in as little as 72 hours.
At Coventry Services, we are fully prepared to clean up any scale of smoke and soot damage safely and effectively.  Our advanced cleaning products can treat all building materials affected by soot and we can salvage most personal items that have been damaged.  We start with our pre-cleaning process which helps prevent permanent damage among the affected materials.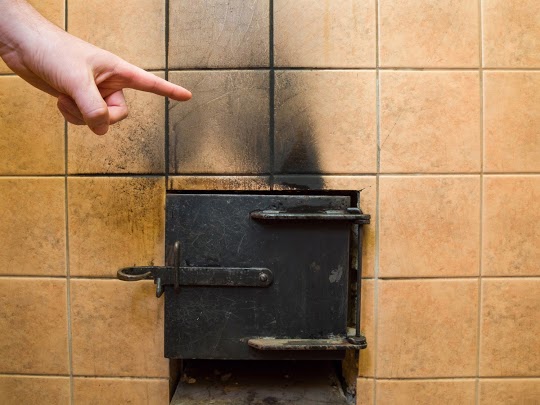 Furnace Puffbacks
One common way that homeowners in the Annapolis, MD area may end up with soot in their home is through a furnace puffback.  Furnace puffbacks occur when a problem within the HVAC system such as a malfunction or imbalance of oxygen and fuel causes a small explosion that pushes soot and oily residue out of the vents.  The soot and petroleum-based residue settle on walls, furniture, and other objects near the vents, resulting in significant damage.  You must call our professionals immediately to clean the mess created by a furnace puffback.
Our technicians are experienced with cleaning up furnace puffbacks and we have the right cleaning products and equipment to remove the soot damage and petroleum-based residue.  We will ensure that all affected materials, including your walls and furniture, are completely restored.  It is very important to call our professionals to clean up puffbacks because cleaning it yourself without the right cleaning products will make the damage worse.
Smoke Odors
Smoke is not only responsible for physical damage from oily residue, but also for lingering, unpleasant odors.  Smoke odors spread easily throughout a home and they get absorbed by wood, drywall, upholstery, and other porous materials. This makes the odors very pervasive and difficult to eliminate.  Our technicians use advanced deodorization techniques that will extract smoke odors from the affected materials and air spaces to completely eliminate the odors.
If your home is affected by smoke and soot from a fire, furnace puffback, or another source, it is very important to have the restoration done immediately to prevent permanent damage.  Our technicians at Coventry Services are equipped with the proper cleaning products and equipment to clean up building materials and objects damaged by soot and remove smoke odors.  We are available 24 hours a day at 443-971-3957 to provide smoke and soot damage restoration in Annapolis, MD.
---
Related Smoke and Soot Damage Restoration Services
---
Recent Reviews