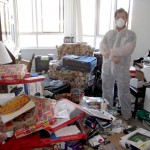 Hoarding is a problem that many people within the United States struggle with on a daily basis and the family and friends of those that hoard are typically left with the overwhelming responsibility of cleaning their homes. The extreme collection of objects such as personal items, trash, and sometimes animals is what defines hoarding disorders and as the hoard grows; it could disrupt the activities of the home and harbor dust and mold that could pose health risks. ServiceMaster DAK Enterprises provides hoarder cleaning services to Glenview Golf, IL to help safely remove large hoards from homes.
Hoarder Cleaning Services from ServiceMaster DAK
ServiceMaster DAK Enterprises understands that hoarding is a sensitive situation and we approach each project with a sense of care and compassion. Our technicians are trained and certified to provide quality hoarder cleaning services by removing the hoard and cleaning, sanitizing, and deodorizing the area. We can also safely remove any biohazard materials including bodily fluids or decomposed animals.
The technicians of ServiceMaster DAK are licensed, bonded, insured, and certified to perform hoarder cleaning services in compliance with the rules and regulations of OSHA, the Department of Transportation, and the EPA. Our hoarding cleanup services include:
Decontamination: Removal of all biohazard materials such as blood, bodily fluids, and decomposing animals.
Deodorization: We use powerful deodorizers to eliminate foul odors.
Proper Disposal: Storage and transport of biohazard materials in the proper containers to a licensed facility that disposes of the materials. Precious personal items such as photographs and other keepsakes will be saved.
Cleaning out the house of a loved one or family member that hoards can be an overwhelming task and our hoarder cleaning services can help effectively clean up homes in Glenview Golf, IL. Contact ServiceMaster DAK Enterprises at 847-983-7400 for hoarder cleaning services.
Hoarding Services by ServiceMaster DAK:
---
Recent Reviews
January 7, 2020
Very thorough clean up! The men were very professional and competent! They arrived on time for 5 days and were very pleasant and respectful of my home always wearing "booties" when entering. The room was left immaculate and debris removed in plastic bags day 1. The fans were checked daily until the room was dry. Very good service! Recommending Brian Brown and Gabriel who did a great job!
---