Many people are squeamish when it comes to blood, and its presence out in the open generally means that something tragic has happened. Whether it is due to a severe accident, crime, or other event, our professionals at Aftermath Services will remove it in a safe and effective manner with our blood cleanup services in Orlando, FL. If you ever encounter blood on your property, it is important that you do not attempt to clean it up by yourself. Blood and other bodily fluids are considered biohazard materials because of their ability to carry dangerous pathogens. Through our services, we will restore security to your property.
Biohazard Materials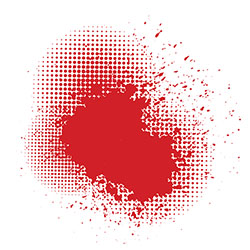 Blood and bodily fluids can be extremely dangerous to those who stumble across them. They can contain pathogens with the potential to spread infections and diseases when mishandled. For this reason, local, state, and federal agencies regulate how biohazard materials must be handled and disposed of. At Aftermath Services, we abide by these regulations to ensure a safe and effective result. We utilize the proper equipment to remove biohazard materials from your property, and then dispose of them at a licensed facility that specializes in medical waste disposal.
How We Can Help
There are a variety of events that can lead to the presence of exposed blood on your property. Some of the most common ones that we address include:
Violent crimes
Severe accidents
Suicides
Unattended deaths
Animal/pest injuries
No matter the cause of the blood on your property, we will respond rapidly to remove it. We are available 24 hours a day, 7 days a week, to respond to your call in your time of need. In the event that law enforcement personnel and/or EMTs are required, we will coordinate with them to make sure important evidence is not removed or contaminated.
Restoring Your Property
In order to fully restore your property, we begin with a thorough initial inspection to find all affected areas. From here, we develop an appropriate decontamination and restoration plan. This includes the removal of dangerous biohazard materials, sanitization of affected areas, and restoration of damaged belongings. For a closer look at what exactly to expect from our services, please read below:
The proper removal and disposal of hazardous materials from your property
Sanitization and restoration services to return your property to normal
Deodorization services to eliminate residual odors
Continuous monitoring for better quality assurance
Assistance when it comes to working with your insurance provider
Confidential family support (if necessary)
To take advantage of our 24/7 blood cleanup services, contact our Aftermath Services representatives at (888) 696-7999. We operate in the Orlando, FL, area, and look forward to helping you through this difficult time.
---
Related Blood Cleanup Services:
---
Recent Reviews
---
Review by Patricia B., Edison, NJ
Aftermath Cleanup
Rating

"Thank you for making our lives easier at a very difficult time. You were compassionate and professional. We appreciate your hard work."
---
Review by Nicole H., Punxsutawney, PA
Aftermath Cleanup
Rating

"Following an unbelievable tragedy, I was met by a compassionate on site supervisor, who proceeded to assume responsibility for which I was unprepared and unable emotionally to handle. Was notified about every step of process being taken, and all was done in a professional manner. Matt still keeps in touch concerning the repairs and our emotional state. Through this horrible tragedy, I felt comforted by his professional manner and felt that I had also made a friend. I would highly recommend Aftermath."
---
Review by Karen V., PA
Aftermath Cleanup
Rating

"I was so comforted by this team.... Jennifer was so soft spoken & Kind & compassionate. Kris & Justin & Jennifer were all more than what we could have prayed for in this situation. Thank you."
---
See All Reviews