Biohazard materials are highly dangerous and should be handled with care. They include substances such as blood, sewage, bodily tissues, and other elements that can contain harmful pathogens. If any event has led to the exposure of these materials on your property, we encourage you to contact our Aftermath Services representatives as soon as possible. Aftermath Services offer biohazard cleanup services in Orlando, FL to remove dangerous substances, decontaminate affected areas, and restore your property to a safe and secure condition.
Biohazard Materials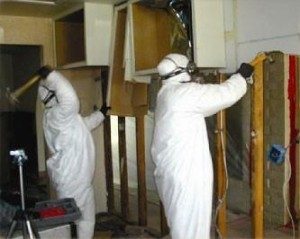 Sewage backups, violent crimes, severe accidents, and unexpected deaths are all situations that can lead to the need for biohazard cleanup services. The dangerous materials left behind from these events can contain harmful pathogens that spread infections and diseases. Because of the severe health consequences that these substances can cause, governmental bodies dictate how biohazard materials must be handled and disposed of. At Aftermath Services, we abide by all local, state, and federal regulations. Only trained professionals utilizing specific equipment and cleaners can guarantee a safe result. Please do not attempt to clean up biohazard materials by yourself.
Licensed Professionals
We offer the services of highly trained and experienced professionals here at Aftermath Services. Since 1996, we have helped property owners recover from a number of dangerous events involving biohazard materials. These situations have included:
Crime scene cleanup
Hoarding cleanup
After death cleanup
Trauma scene cleanup
Suicide cleanup
Death cleanup
Tear gas and pepper spray cleanup
Restoring Your Property
As we mentioned above, our technicians will fully restore your property to a safe and secure condition. We will locate and remove all biohazard materials from your property, decontaminate affected areas, and provide restoration services. As far as the biohazard materials are concerned, we will properly transfer them to a licensed facility that specializes in medical waste disposal. For greater peace of mind, we will also help you work with your insurance company and coordinate your claim.
On top of this, it is important to note that we are available 24 hours a day, 7 days a week. This allows us to help you in your time of need and restore your property sooner. The scenarios that necessitate biohazard cleanup services are often traumatic. Remaining available to take your call is the least we can do. After speaking on the phone, we will get a team to your location as swiftly as possible to begin cleanup efforts.
To learn more, or to take advantage of our biohazard cleanup services, contact our Aftermath Services representatives at (888) 696-7999. We operate in the Orlando, FL, community, and are proud to offer our assistance.
---
Related Biohazard Cleanup Services:
---
Recent Reviews
---
Review by Patricia B., Edison, NJ
Aftermath Cleanup
Rating

"Thank you for making our lives easier at a very difficult time. You were compassionate and professional. We appreciate your hard work."
---
Review by Nicole H., Punxsutawney, PA
Aftermath Cleanup
Rating

"Following an unbelievable tragedy, I was met by a compassionate on site supervisor, who proceeded to assume responsibility for which I was unprepared and unable emotionally to handle. Was notified about every step of process being taken, and all was done in a professional manner. Matt still keeps in touch concerning the repairs and our emotional state. Through this horrible tragedy, I felt comforted by his professional manner and felt that I had also made a friend. I would highly recommend Aftermath."
---
Review by Karen V., PA
Aftermath Cleanup
Rating

"I was so comforted by this team.... Jennifer was so soft spoken & Kind & compassionate. Kris & Justin & Jennifer were all more than what we could have prayed for in this situation. Thank you."
---
See All Reviews