If you discover biohazards on your property, you must not come into contact with the materials. Rather, keep your distance and contact professionals to have the biohazard materials removed and disposed of safely. Biohazard is a general term that refers to all biological substances that have the ability to cause disease or infection. Some examples of biohazardous materials include blood, bodily fluids, mold, and sewage. At Aftermath Services, we provide the Oakland, CA area with complete biohazard cleanup services. Our professionals are properly trained and equipped to remove dangerous materials as well as clean and disinfect your property safely.
Why Call a Professional Biohazard Cleaning Company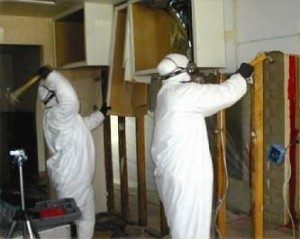 Because biohazards can be very dangerous, they need to be handled carefully. Furthermore, you cannot clean up biohazards using commonplace commercial cleaners, equipment, and techniques. In fact, if someone attempts to clean biohazards without the necessary protective equipment and training, then not only is that person at risk for disease or infection, but the person also puts others at risk, too.
Aftermath Services is an expert at conducting biohazard cleanup and has been since 1996. We employ technicians who have extensive training to conduct biohazard removal, cleanup, and restoration. Additionally, we have training and certification to conduct biohazard cleanup in the following scenarios:
After death cleanup
Bio recovery cleanup
Blood cleanup
Crime scene cleanup
Death cleanup
Hoarding cleanup
Homicide cleanup
Suicide cleanup
Tear gas and pepper spray
Trauma scene cleanup
What to Expect from Aftermath Services
We get rid of all biohazard materials on your property. In addition, our technicians will also deodorize, disinfect, and sanitize your property to ensure it is safe for people and pets to return to. The biohazards that we remove will be safely transported in approved containers to a licensed facility that specializes in medical waste disposal. We also work with your insurance provider to help with the claims process.
Call Aftermath Services at (888) 696-7999 for our 24/7 biohazard cleanup services in the Oakland, CA area.
---
Review by Patricia B., Edison, NJ
Aftermath Cleanup
Rating

"Thank you for making our lives easier at a very difficult time. You were compassionate and professional. We appreciate your hard work."
---
Review by Nicole H., Punxsutawney, PA
Aftermath Services
Rating

"Following an unbelievable tragedy, I was met by a compassionate on site supervisor, who proceeded to assume responsibility for which I was unprepared and unable emotionally to handle. Was notified about every step of process being taken, and all was done in a professional manner. Matt still keeps in touch concerning the repairs and our emotional state. Through this horrible tragedy, I felt comforted by his professional manner and felt that I had also made a friend. I would highly recommend Aftermath."